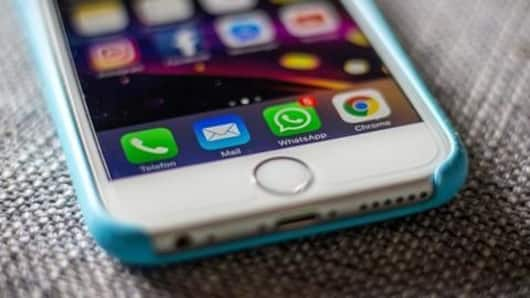 WhatsApp update improves emojis, offers new way to add contacts
In a fresh update for WhatsApp, iOS users are getting two handy new capabilities.
The first offers a new way to add contacts on the messaging platform, while the other makes searching for emojis a whole lot easier.
The changes come just as WhatsApp continues to evolve with interesting new features aimed at improving the user experience.
Here's more about them.
Add contacts from within WhatsApp
With the latest version, you'll be able to add contacts from inside the app.
This means, instead of adding a contact in the phonebook and then looking for it in the messaging app, you can add contact and start chatting from within the app immediately.
You'd just have to tap on New Chat > New Contact and enter the contact details of the person.
Plus, you get new emoji categories
Though the official changelog doesn't mention this, you'll also get a new emoji category bar with this update, WhatsApp tipster WABetaInfo reported.
With this bar, you'll be able to swift through emojis easily and find the one you need in less time.
Do note that the feature has been available for a long while now.
Love Tech news?
Stay updated with the latest happenings.
Yes, notify Me
WhatsApp will soon get some very interesting features
Though these aren't major improvements for WhatsApp, they do upgrade the overall experience of using the messaging app.
Plus, WABetaInfo has already noted that the platform is on track to receive an 'advanced search' option to look up media files and links in messages as well as an option in settings to control who can add you into groups.
Also, there might be algorithm-based status sorting
Some reports also suggest that WhatsApp is working on an advanced algorithm for sorting statuses on the basis of factors like who you interact with the most or whose status you see or do not see more often.
Is this update rolling out?
Asked 2019-03-06 16:48:34 by Ishan Pawar
Answered by NewsBytes
Yes, the update is rolling out and can be downloaded from Apple's App Store.
What is the version number of this update?
Asked 2019-03-06 16:48:34 by Aditya Chauhan
Answered by NewsBytes
The latest iOS update comes with a version number 2.19.30.
When advanced search features will come on Android?
Asked 2019-03-06 16:48:34 by Aanya Rathore
Answered by NewsBytes
The feature will first come on iOS beta but is expected to land on Android too.
When algorithm-based status sorting would come?
Asked 2019-03-06 16:48:34 by Ankita Chavan
Answered by NewsBytes
As of now, there's no saying when or if algorithm-based status sorting would be available.