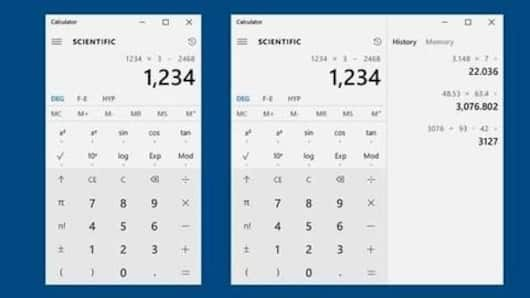 Now, you can contribute new features into Windows Calculator
In a major development, Microsoft has decided to open source its iconic Windows Calculator.
The tool, which debuted all the way back with Windows 1.0 in 1985, has come a long way over the decades.
But now, the Redmond giant wants the community to contribute to its development, which it plans to achieve by making calculator's resources publicly available.
Here's more on the move.
Calculator's source code now on Github
Microsoft announced the decision to open source the Calculator in a blog, noting that its source code, build system, unit tests, and product roadmap are now available on Github (https://github.com/Microsoft/calculator).
This means any developer can contribute to design new features for the app or collaborate with Microsoft's engineers to build them.
The company says it wants fresh perspectives to 'define the future of Calculator'.
However, the testing process remains unchanged
Though you can design new features or fix issues with the Calculator app, Microsoft has emphasized that the testing process for the program remains unchanged. The app will go 'through all usual testing, compliance, security, quality processes, and Insider flighting' before hitting a stable release.
Love Tech news?
Stay updated with the latest happenings.
Yes, notify Me
Plus, developers can finally see how the iconic Calculator works
As a recent HackerRank developer survey highlighted, most young developers design calculator as their first program.
Now, with Microsoft's latest move, they can see the internal working of the Windows Calculator and learn about Microsoft technologies like Universal Windows Platform and XAML.
Plus, developers can even integrate the Calculator logic or UI into their own programs or Windows apps to make them better.
Microsoft Calculator has come a long way since its introduction
Since its introduction decades ago, Windows Calculator has crossed the threshold of a regular arithmetic calculator.
It is now cleaner and snappier than ever and you also get a range of conversion features, including those for converting currencies, length, volume, weight and mass, temperature, energy, and area.
You also get a programmer and date calculation option on the app.
Do we have to pay for the source code?
Asked 2019-03-07 13:24:55 by Pranav Rangan
Answered by NewsBytes
No, it is free access for everyone.
What would be the benefit of the source code?
Asked 2019-03-07 13:24:55 by Aaradhya Venkatesan
Answered by NewsBytes
You could design new features for your own apps or contribute to the development of Windows calculator.
Has Microsoft open-sourced any other products?
Asked 2019-03-07 13:24:55 by Reyansh Banerjee
Answered by NewsBytes
Microsoft had even open-sourced the original File Manager from the '90s to allow it to run on Windows 10.
How to access the Calculator source code?
Asked 2019-03-07 13:24:55 by Rishika Mukopadhyay
Answered by NewsBytes
You can access source code and other calculator resources from https://github.com/Microsoft/calculator.