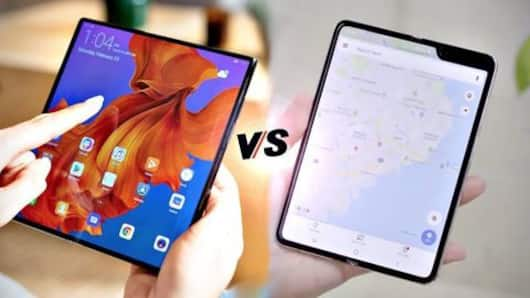 Samsung Galaxy Fold v/s Huawei Mate X: A specs-wise comparison
Whether you are ready or not, Foldable phones are here. Arch-rivals Samsung and Huawei have launched their novel devices to capture a rather niche but premium market segment.
Both Samsung's Galaxy Fold and Huawei's Mate X come with foldable displays, multiple cameras, top-of-the-line internals, and hefty price tags. But, which one is better?
Here's our detailed comparison.
At a glance
Samsung's Galaxy Fold features an outer cover screen which opens like a book to reveal a tablet-like main display.
In comparison, Huawei's Mate X sports a single notch-less display which folds into a smartphone like form-factor with dual displays.
Further, Mate X has ultra-slim bezels, metallic frame and holdable "wing" whereas the Galaxy Fold gets thick borders and a plastic shell.
Winner: Mate X.
All about the screen
Huawei Mate X features a main 8-inch (2480x2200 pixels) OLED display which folds into a dual-screen smartphone with a 6.6-inch (2480x1148 pixels) front display and a 6.38-inch (2480x892 pixels) rear display.
On the other hand, the Galaxy Fold has 4.58-inch (1960x840 pixels) external screen and a foldable 7.3-inch (2152x1536 pixels) Infinity Flex internal display.
Winner: Mate X for offering more pixels and better display.
Love Tech news?
Stay updated with the latest happenings.
Yes, notify me
For the shutterbugs and selfie lovers
The Galaxy Fold offers a 10MP camera on the external shell, a 10MP+8MP dual camera setup housed in the main display notch, and a 16MP+12MP+12MP triple camera setup nestled on the rear casing.
The Mate X sports a LEICA-engineered triple camera setup comprising a 40MP (wide-angle sensor), 16MP (ultra-wide-angle sensor) and an 8MP (telephoto sensor).
Winner: Galaxy Fold for having cameras at strategic positions.
All the important stuff
The Galaxy Fold is powered by the Snapdragon 855 chipset, paired with 12GB of RAM and 512GB of Universal Flash Storage 3.0 storage.
Under the hood, the Mate X gets a HiSilicon Kirin 980 chipset, paired with 8GB RAM and 512GB of internal storage.
Winner: Galaxy Fold for offering higher RAM and faster UFS 3.0 storage.
Battery, connectivity options and more
Both the phones pack dual batteries with Galaxy Fold having a combined capacity of 4,380mAh and Mate X offering 4,500mAh capacity.
Further, while Galaxy Fold supports two-way wireless charging, Mate X offers 55W fast charging support.
Notably, both phones come with side-mounted fingerprint scanners, run forked versions of Android Pie, and support 5G networks.
Winner: You be the judge: fast charging or wireless charging?
Pricing: The key factor
Samsung's Galaxy Fold is priced at $1,980 (approx. Rs. 1,40,000) while the Mate X comes with an astronomical price tag of $2,600 or roughly Rs. 1,82,000.
How things stack up!
While the market for foldable phones will grow from here, Galaxy Fold and Mate X are the best in class, as of now.
Samsung's device offers more cameras, high RAM, faster storage, and flagship performance.
Mate X offers a more intuitive design, crispier displays, industry-leading fast charging, and top-end internals.
So, if your geeky self wants a foldable phone, go for Huawei Mate X.