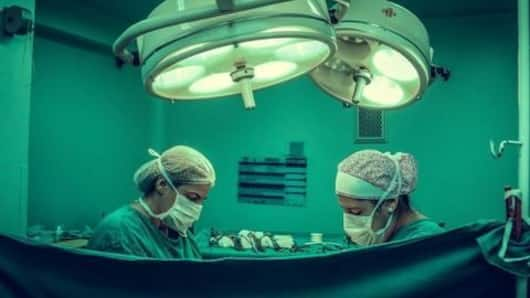 'Robot' doctor tells patient he's going to die
In a shocking piece of news, a doctor used a robot to inform his patient that he is going to die.
The hospital received major flak from the family and friends of the patient for this impersonal and heartless way of giving the news.
The California-based medical center has since apologized for 'falling short' of their expectations.
Here's more on the incident.
Doctor appears on robot's screen, informs about death
Ernest Quintana, 78, was taken to California's Kaiser Permanente Medical Center for serious breathing and lung-related problems.
However, a day later, a robot showed up at his door; it had a video-link screen on which the doctor appeared and broke the news.
"You might not make it home," he said, adding that 'there's no lungs left' and he might die in a few days.
Here's what the robot looked like
A doctor in California told a patient he was going to die, using a robot with a video-link screen.

Family of patient said this is not the way to show value and compassion to a patient.

The patient died the next day. pic.twitter.com/FDKZaBbIcn

— Eirini Malliaraki (@irinimalliaraki) March 11, 2019
Love Tech news?
Stay updated with the latest happenings.
Yes, notify me
'This is how we do thing,' said a nurse
When the news was broken, Quintana was accompanied by his granddaughter Annalisia Wilharm.
"We knew that this was coming and that he was very sick," she told KTVU News. "But I don't think somebody should get the news delivered that way."
Also, a nurse claimed "this is our policy, this is how we do things" when Quintana's wife complained about the issue.
Hospital later apologized for the issue
After the issue was flagged, the hospital issued a statement acknowledging the error and saying it regretted 'falling short' of the patient's and his family's expectations.
"Video technology is not used as a replacement for in-person evaluations and conversations with patients," it said, noting that this was a "highly unusual circumstance".
The hospital also promised to review its care practices to improve patients' experience.
Either way, this shows how machines are changing hospitals
Robots are assisting in various fields, including medical surgeries, but this particular case shows how the same tech could collide with the system of medical care.
Speaking to BBC, Quintana's friend Julianne Spangler claimed, "I think the technological advances in medicine have been wonderful, but the line of 'where' and 'when' need to be black and white."
Hopefully, that line is drawn in time.
Why hospitals use robots like these?
Asked 2019-03-11 14:11:49 by Vihaan Chattopadhyay
Answered by NewsBytes
Hospitals use robots to deliver remote consultations when the doctor couldn't reach in person.
Are these methods ethical?
Asked 2019-03-11 14:11:49 by Shreya Jayaraman
Answered by NewsBytes
Delivering such news through a robot isn't right. But, the hospital says normally video consultations are given in the presence of a nurse.
Which robot was this?
Asked 2019-03-11 14:11:49 by Abhinav Rangarajan
Answered by NewsBytes
It is not exactly clear which robot was used by the hospital.
Are other hospitals also using robots?
Asked 2019-03-11 14:11:49 by Cheshta Jindal
Answered by NewsBytes
Yes, many hospitals in the US use robots tasks ranging from supply restocking to remote consultation.