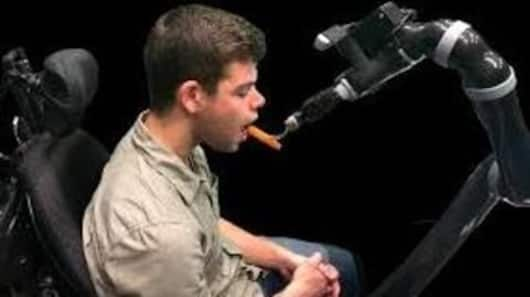 Robotic caretaker: The machine that can feed you on command
We have already seen how good, not to mention productive, machines can be.
They can handle a range of tasks, but this time around, researchers have built a robot that can feed you on a single command.
It works in conjunction with Amazon's Alexa and could help differently-abled people with their routine activities one day.
Here's how this machine works.
Robot scooping fruit pieces and feeding to a human
Built by researchers from the University of Washington, the robot is a mechanical arm that triggers on command.
Ethan Gordon, a doctoral student at the university, recently demoed its capabilities, GeekWire reported.
Gordon just said "Alexa, tell the robot to get a strawberry" and the bot moved on its own, scooped up a piece of fruit from the plate, feeding it to him.
Here's the robot in action
"Alexa, tell the robot to get a strawberry," commands @UW doctoral student Ethan Gordon. Robots like this could one day help people who aren't able to perform everyday tasks live more independently. pic.twitter.com/f9Wz8YHQLv

— James Thorne (@jamescthorne) March 9, 2019
Love Tech news?
Stay updated with the latest happenings.
Yes, notify Me
How this robot works?
The robot uses a range of sensors and an algorithm working on a set of rules (defined by the researchers) to find a piece of fruit and then pick it up for feeding.
Speaking to GeekWire, the researchers said they had asked real people to feed a mannequin in order to train the robot to scoop and feed different fruits, including bananas.
Plus, they worked with human caretakers
While training the robot how to find and pick up fruit items, the researchers also worked with caregivers to teach the machine how to feed as a real human would. "Feeding is so intimate. It's also a social activity," Tapomayukh Bhattacharjee, team member, told GeekWire.
Now, they're working to advance its capabilities
Now that the robotic arm can feed on command, the team is exploring ways to trigger the machine without speaking.
They say it can be modified to work with different assistants, but an additional accessibility tech would make it better.
Ultimately, they want to improve the bot to the point when it can serve as a fully-functional system to help people with daily activities.
Obi, a home-based robot can already feed people
Notably, a robot called Obi can already feed people, but its functionality is fairly limited. Siddhartha Srinivasa, a professor of computer science and engineering at UW, claims the days of fully-functional helping robots are still decades away.
Is this robot available in India?
Asked 2019-03-11 16:26:31 by Tejas Jayaraman
Answered by NewsBytes
No, this robot is an early prototype of a broader project.
Is this robot autonomous?
Asked 2019-03-11 16:26:31 by Vishal Rangan
Answered by NewsBytes
Yes, the robot shown off by UW researchers works automatically on command.
Can this bot work with Google Assistant?
Asked 2019-03-11 16:26:31 by Sanvi Mittal
Answered by NewsBytes
Yes, the researchers have said this robot can be rigged to work with other assistants, including the one from Google.
When this robot will be fully ready?
Asked 2019-03-11 16:26:31 by Pari Jaiteley
Answered by NewsBytes
As of now, it is not clear when this is robot will be fully ready.