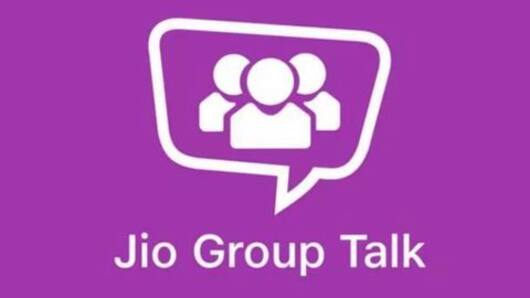 Is Jio Group Talk better than regular conference calling?
As the latest addition to its portfolio of apps and services, Reliance Jio has launched Jio Group Talk - a one-touch group calling platform exclusively for Jio users.
The app, currently under trial, is available for free on Android and iOS.
Interestingly, we tested Jio Group Talk and liked how it worked.
So, here's all about the app, and our verdict.
How to get started with Jio Group Talk?
To be able to use Jio Group Talk, you will require a VoLTE-enabled phone and an active Jio SIM with internet connection. Notably, the app requires VoLTE and won't work on Wi-Fi.
To get started, download the app, allow necessary permissions, and sign-in with your credentials.
Next, your number will be verified via OTP, after which it will be active for making conference calls.
How to make a new conference call?
To start a group call, tap on 'New Conference Call' under the 'Recent' tab.
Now select contacts and tap on the call button on the bottom of the screen to initiate a conference call.
Conversely, you can create a group first and then tap on the group icon to call all members.
Meanwhile, the maximum number of contacts supported by the app is 10.
Love Tech news?
Stay updated with the latest happenings.
Yes, notify me
Calls to non-Jio numbers did not connect in our test
According to Jio, you don't require to have the app to be a part of the conference call.
Hence, one can make group calls to non-Jio users and even to landline numbers.
However, in our test, we managed to connect to Jio contacts while non-Jio numbers did not receive any calls.
It could be some temporary issue that'll get fixed in the stable version.
'Lecture Mode' worked just fine
Jio offers a couple of handy features to manage group calls. Firstly, if you are in a live call, you can easily add more members by clicking on 'Add Participants'.
Further, when in a conference call, you can either mute individual users or enter 'Lecture Mode' to mute others by pressing the mute button on the top-right corner of the 'Manage Call' screen.
Everything that Jio Group Talk doesn't support as of now
Jio has announced a Schedule Group Call feature but it isn't active at this stage.
Moreover, when adding a new participant, the contact of the person should be saved in your list. We would like Jio to add support for adding new members by directly entering mobile numbers in the app.
Also, an option to do video chats video is also on our wishlist.
Is it better than regular conference calling? Yes, it is
As compared to regular conference calling, Jio Group Talk is surely a better option.
The calls to Jio users connected quickly, the audio quality was decent, and one-touch feature for calling groups was seamless.
Further, the fact that users don't require the app allows you to connect to landline numbers as well.
However, not being able to connect to non-Jio numbers was a bummer.
Is Jio Group Talk available on App store?
Asked 2019-03-11 20:41:10 by Charvi Saxena
Answered by NewsBytes
Yes, Jio Group Talk is available on both Google Play Store as well as Apple App Store.
Does Jio Group Talk work on Wi-Fi?
Asked 2019-03-11 20:41:10 by Trisha Pawar
Answered by NewsBytes
No, Jio Group Talk requires an active VoLTE connection to work.
Can non-Jio members connect with Jio Group Talk?
Asked 2019-03-11 20:41:10 by Reyansh Kapoor
Answered by NewsBytes
Yes, non-Jio members can connect to a Jio Group Talk conference call.
Can we connect International numbers with Jio Group Talk?
Asked 2019-03-11 20:41:10 by Muhammad Chauhan
Answered by NewsBytes
No, Jio Group Talk presently does not support international numbers.