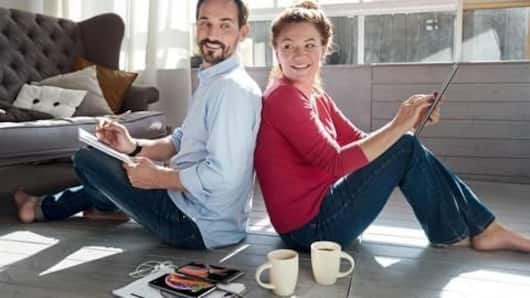 #Review: Choetech's fast wireless chargers for home, office, road trips
Even as most flagships continue to offer support for Qi standard, wireless charging adoption remains low in India, mainly due to high prices and limited choices.
But, just recently, we tried three wireless chargers from Choetech, a leading brand in the wireless charging industry.
They fit perfectly at home, office desks and offer full value for money.
Here's our full review of the chargers.
T535-S PowerDual 5 Coils Fast Wireless Charger
The first charger, Choetech T535-S, offers a wide anti-slip PU leather surface and 5 built-in charging coils at a price of Rs. 2,500.
It features three power modes and can charge all recent Samsung flagships at up to 10W, iPhones at 7.5W, and all other Qi-enabled devices at 5W.
You even get heat dissipation holes that prevent excessive heating of the device.
What we think about this charger
The 5-coil setup of Choetech T535-S enables the user to charge two phones simultaneously (charging at 20W) or keep one phone in any position.
Also, the charging LED makes it easier to see when the phone's charging and when it's not.
The only downside is that you won't get fast charging benefits unless a Quick Charge power brick is used (which is not provided).
Love Tech news?
Stay updated with the latest happenings.
Yes, notify me
T536-S Phone Holder 10W Fast Wireless Charging Car Mount
This particular charger comes at Rs. 1,800 and can charge your Qi-enabled phone even on the road.
It looks like a regular smartphone holder that rests on a car's air vent but actually features fast wireless charging capabilities with a maximum output of 10W.
You also get advanced circuitry that would protect your phone from overcharging or overheating as you focus on the road.
What we think about this charger
The device delivers on the charging front; it charged my Galaxy S7 in about one and a half hour, something that can come handy on the road.
However, the gravity-link design of this charger is slightly clumsy; it grips the phone, but you'll feel it may fall anytime.
Further, the charger requires Quick Charge adapter which is not there in the package.
T563-S Adjustable Wireless Charger Stand
Priced at Rs. 1,500, T563-S is an adjustable desk charger that can not just power up your phone but also allows you to keep it in a range of positions.
It features two built-in charging coils and can charge all Qi-enabled smartphones in three different power modes: 10W, 7.5W, and 5W.
Plus, there are the advanced circuitry protections against overcharging, overheating, and short-circuit.
What we think about this charger
This particular charger offers a very well built soft surface that allows the user to place their device horizontally or vertically.
The stand on the back also adjusts seamlessly, letting you keep the phone upright for watching content or flat like a paper.
Fast charging capabilities of the device were also on the mark, but they won't work without a Quick Charge power adapter.
And, there are tons of other products available
Cheotech offers a bunch of other products like chargers, cables, LED lights, bluetooth headphones et al. If you wish to buy any of these products, you can visit their site: www.choetech.com
Are these chargers available in India?
Asked 2019-03-13 15:22:56 by Aradhya Verma
Answered by NewsBytes
No, but you can order them from Choetech's official website or from Amazon.
Are there any other wireless charger options in India?
Asked 2019-03-13 15:22:56 by Tejas Banerjee
Answered by NewsBytes
Apart from Choetech, you can also try wireless chargers offered by Samsung. However, they start at Rs. 3,000.
Do we need to buy a power adapter for these chargers?
Asked 2019-03-13 15:22:56 by Shaurya Gavde
Answered by NewsBytes
Yes, these chargers don't come with power adapters and you'll have to buy one from outside.
Which phones are supported on these chargers?
Asked 2019-03-13 15:22:56 by Saanvi Nair
Answered by NewsBytes
These chargers support fast charging for all Qi-enabled devices, including the latest flagships from Samsung and Apple.