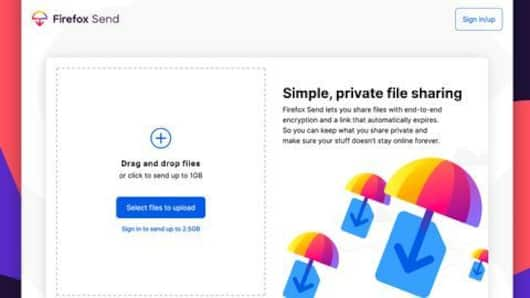 Now, use 'Firefox Send' for free, fully encrypted file transfers
Mozilla, the non-profit organization behind the famous Firefox browser, has launched a new service for instant file transfers - Firefox Send.
The service, which was once available as part of a pilot project, lets users transfer files up to 2.5GB with end-to-end encryption.
It is easy to use and, most importantly, absolutely free for everyone.
Here's how you can start using Firefox Send.
End-to-end encryption with added protections
Despite lagging behind deep-pocketed competitors, Mozilla has managed to put up a fight with its focus on privacy.
The organization promises to "handle your data privately and securely" and is keeping that promise by offering a file-sharing platform that is 'private by design'.
It shares files through any browser but protects the data with end-to-end encryption and a link that expires automatically.
This means you can share confidential data safely
Though the feature hasn't been tested by security experts, Mozilla claims it can be used to share confidential files, like financial numbers or documents, safely on the internet.
Love Tech news?
Stay updated with the latest happenings.
Yes, notify me
Plus, there's added advantage of convenience
Firefox Send not just shares your data safely but also delivers on the convenience front.
Basically, unlike Google Drive or Dropbox, there's no need for the user to waste time on creating a cloud account and storing a file for sharing.
You just have to upload the file on the platform, add some protections, and a shareable link would be generated instantly.
How to use Firefox Send?
To start using Firefox Send, visit www.send.firefox.com and upload the file you want to share.
Then, set the expiration time for the link in terms of time and the number of permitted downloads; you can even add a password to further protect the link.
Finally, hit the 'Upload' button to generate the protected link which can be shared with anyone to download the file.
However, there are some restrictions
Unlike leading cloud platforms, Firefox Send won't extend your sharing limits through a premium plan. It just lets you share 1GB of data without signing in and extends it to 2.5GB when you are logged into your Firefox account.
Mozilla is overhauling its product line
The launch of encrypted Firefox Send comes just as Mozilla continues to overhaul its product line.
Just recently, the company launched Firefox Lite browser in the Indian market with special protections to block ads and web trackers allowing websites/advertisers to read user activity.
Clearly, with all the leaks, bugs, and data breaches happening, Mozilla is making user privacy and security its calling card.
Can we use Firefox send on Chrome?
Asked 2019-03-14 14:08:05 by Surabhi Mittal
Answered by NewsBytes
You can use Firefox Send on any browser by visiting www.send.firefox.com.
Are there any other services like this?
Asked 2019-03-14 14:08:05 by Sanvi Balasubramanium
Answered by NewsBytes
There's a service called WeTransfer which is also pretty similar to Firefox Send.
Will Firefox store user data?
Asked 2019-03-14 14:08:05 by Aarav Saxena
Answered by NewsBytes
Firefox claims its system is end-to-end encrypted which means no one, not even the company itself, can look at the data you've uploaded.
What happens to the link after expiration?
Asked 2019-03-14 14:08:05 by Surabhi Nair
Answered by NewsBytes
Once expired, the link won't work for anyone.