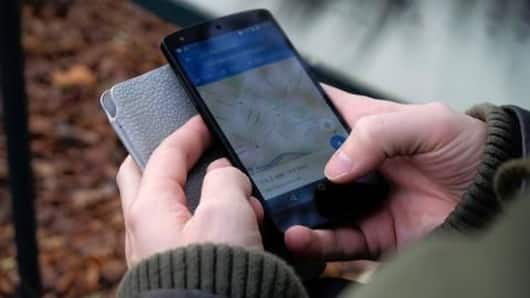 Now, use Google Maps' AR-based directions to find your way
In a major move, Google has started testing AR-based directions in Maps, its wildly famous navigational tool.
The feature, which has started appearing on some devices, will superimpose large digital arrows over real-world images to help people navigate.
It is still an experimental project but will be available for both Android and iOS users.
Here's how it works.
AR navigation to show where to walk
Available for Google Maps' 'Walking' mode, AR navigation will help users find their way.
The feature uses ARKit or ARCore capabilities of smartphones and overlays large arrows and business listings over real-time camera view to show where you're supposed to walk and in what direction.
Put simply, it eliminates the hassle of figuring out where to walk while trying to reach a destination.
Plus, it warns when you go in the wrong direction
The feature uses AR to combine Visual Positioning Service with GPS, which can often be inaccurate in urban environments.
Also, when you'll use this feature, there's no chance of walking in the wrong direction; Maps will issue an alert to help you take the right end of the road.
It keeps showing arrowed directions but also reminds to keep the phone down for safety.
Love Tech news?
Stay updated with the latest happenings.
Yes, notify Me
However, roll-out is for limited users
Google demoed this feature early last month, and now, it appears to be rolling out for the high-level members of its Local Guides program.
As 9To5Google recently reported, the roll-out is for select users as Google wants to test the working of the feature and get feedback to improve it.
To note, high-level Local Guides are those who actively post images, reviews on Maps.
Also, no word on wider availability
AR Navigation appears to be rolling out through a server-side update for Local Guides using Android and iOS devices. 9To5Google also spotted some signs of the feature in Google Maps 10.11, but as of now, there's no word on wider availability for regular users.
Either way, the feature shows the potential of augmented reality
Maps' AR-based navigation is more of a gimmick, mainly because one has to keep the phone up for seeing directions - which could compromise the element of safety.
In its current form, the feature can be used as an option to check if you are going in the right way.
However, in future, it may be employed to work with AR glasses/headsets in full-flow.
When regular Android users get this feature?
Asked 2019-03-16 18:33:43 by Tejas Jain
Answered by NewsBytes
As of now, it is not clear when regular Android users will get this feature.
Are there any other improvements in Maps?
Asked 2019-03-16 18:33:43 by Anika Shah
Answered by NewsBytes
Google has been improving Maps a lot lately; the company has introduced Assistant for voice-control over texts and WhatsApp messages and the ability to report accidents.
How to use Assistant in Maps?
Asked 2019-03-16 18:33:43 by Chirag Nair
Answered by NewsBytes
You can use Assistant in Maps by saying Ok Google catchphrase or hitting the colored mic icon on the top right corner.
Will this feature come on iOS?
Asked 2019-03-16 18:33:43 by Anika Chatterjee
Answered by NewsBytes
The feature is expected to land on iOS devices, but the timeline is not exactly clear.