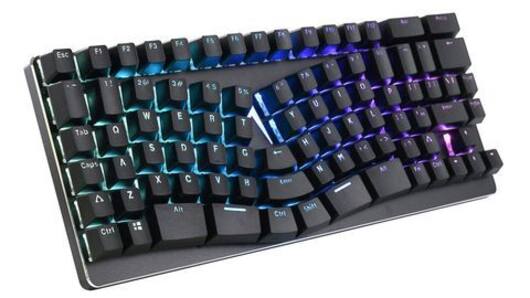 The most bizarre and weird keyboards ever made
From typing our very first letters to typing without needing to look down, we all remember our journey with keyboards.
But over the years, keyboard designs have changed drastically to suit our requirements - from vanilla typing to gaming, from membrane to mechanical, and from portable forms to enormous sizes.
Hence, today we recall some of the most bizarre and weird keyboards ever made.
Ducky 3084
Unlike standard black keyboards, the Ducky 3084 is an eye-catcher, thanks to its rather peculiar pastel color options like Mint Green and Sakura Pink.
Moreover, the compact keyboard doesn't feature character labels on the keycaps. Instead, they are located on the bottom side of the keys, meaning you will need more than just a glance to find the right keys.
Azio Retro with white leather and copper trim
If Rolls Royce made a computer, its keyboard might look something like the Azio Retro.
This full-sized keyboard looks weird but in a good way. It offers an unconventional design with typewriter-style rounded keys adorned in white leather and copper trims.
Further, the backlighting is nothing short of brilliant, the braided USB cable offers decent protection, and the responsive keys will even surprise gamers.
Love Tech news?
Stay updated with the latest happenings.
Yes, notify me
Koolertron Programmable Split Mechanical Keyboard
This Koolertron split keyboard is truly one of the weirdest keyboards out there.
Despite the high build quality and excellent Cherry Switches, the split design will make you think twice before buying this keyboard.
The two pads are joined by a wire to offer 89 programmable keys while the characters are printed on the bottom side - similar to Ducky.
Bloody B740A Light Strike
The B740A Light Strike could possibly be a keyboard on a spacecraft.
True to its name, this Bloody keyboard embodies the gaming aesthetic in more ways than one, with its angular all-metal body, bright orange silicone keycaps, and different colored rows of lighting.
Moreover, the keyboard uses infrared contacts instead of mechanical switches to offer ultra-fast response time.
X-Bows Mechanical Ergonomic Keyboard
Although touted to offer the most natural way to type, getting used to the X-Bows Mechanical Ergonomic Keyboard will take some time.
Featuring a cross-linear design, the alphabet and number keys are inclined inwards to offer a natural angle for typing while also qualifying for a weird design.
Further, the space bar is split in two along with dual backspace and enter keys.