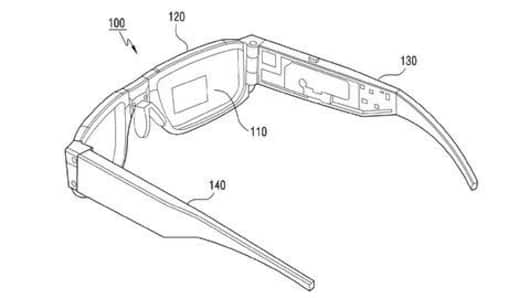 Samsung is working on foldable AR smart glasses, suggests patent
Samsung is developing new AR glasses to take on the likes of Google Glass and Amazon-backed North Focals, as it looks to venture into this lesser-explored category of wearables.
A newly published patent suggests that the South Korean tech giant is working on a device that'll look like regular eyeglasses but will be automatically powered on and off by the foldable frame.
Here's more.
Samsung had filed the patent in January 2019
Interestingly, the Samsung patent was filed with the United States Patent and Trademark Office on January 2 this year, but it was published just last week on July 11.
Here's how Samsung's foldable AR glasses will work
The patent refers to a wearable electronic device that'll automatically switch when either of the temples is opened.
In the unfolded state, a temple-mounted projector will beam images on a small square display that would appear in the wearer's field-of-view.
Further, to maintain the "open" temple position and prevent the projector from jittering during wearer's head movements, Samsung will use magnets near the hinges.
Love Tech news?
Stay updated with the latest happenings.
Yes, notify me
What are the use cases of these smart glasses?
The holographic display on the eyeglasses will keep the wearer connected all the time, bringing information ranging from texts and call alerts to reminders, emails, navigation, and weather updates right in front of the eyes.
Further, with digital assistant integration, the glasses could let you reply to texts, perform a web search, stream videos, and even control other connected home appliances.
So, when will Samsung release its smart glasses?
To note, a successful patent doesn't mean that a product is in the works. However, it certainly does weigh in on the idea of a possibility.
When will Samsung release these AR glasses? We don't know. But considering that the patent was filed earlier this year, it is a good indication that the tech giant is actively working on this new technology.