Citizens poised to ride England's first self driving bus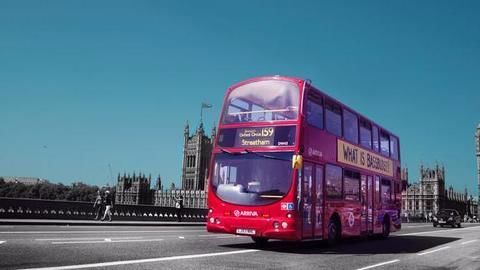 Over the next three weeks, Britain is going to witness the test run for a prototype of a self-driving shuttle bus.
For the first time ever, an extended public trial of a driverless shuttle bus has been rolled out.
Officials believe by 2019 it is going to be functional on a trial basis and eventually, it can be rolled out to other places.
In context
Self-driving bus to makes its debut in London
Harry
Plans for the big day
As per Oxbotica, the company behind the development of the self-driving bus 'Harry', amongst 5,000 applications, only 100 people will be able to travel on the bus during the test run.
The vehicle is capable of travelling at a speed of around 16 kmph and will be computer-controlled.
However, it will also have trained personnel on board to take over if necessary.
Safety measures
Safety of the passengers will not be risked
The shuttle can accommodate four riders and it doesn't have any steering wheel or brake pedal like in normal vehicles, but there is an emergency brake if required.
For the safety of the public, there are five cameras incorporated in and around the vehicle and along with that, three lasers are also there to help it navigate the path.
Love Tech news?
Stay updated with the latest happenings.
Notify Me
Going driverless
Self-driving technology is not a new thing in Britain
Last month, Nissan had performed a test run of more than 300 miles with its prototype Leaf model, a vehicle with enhanced autonomous technology, on the streets of East London.
The government has kick-started the initial phase of £100 million investment for testing infrastructure to develop an autonomous driving technology.
57% of UK citizens believe autonomous vehicles will enhance living standards in England.
Tech gurus
Big names are now working on self-driving technology
Intel, Mobileye and BMW have made an agreement to produce a fleet of 40 autonomous BMW 7 series cars by the end of 2017.
Tesla CEO Elon Musk has said that Tesla cars will be fully automated within just two years.
Google's Alphabet has recently acquired Waymo, its new self-driving technology company.
Going autonomous
India's drive for autonomous technology
Teams at IITs in India are presently developing self-driving technology keeping Indian market in mind and are eyeing for the Rise Prize by Mahindra.
Rise Prize by Mahindra will give $1 million to two winning teams for two challenges, the Solar Challenge and Driverless Car challenge.
Government has also paved the way for the technology to enter the country by permitting autonomous vehicle testing.
Man vs machine
An advocacy group for professional drivers, called the Upstate Transportation Association is trying hard to get New York ban the technology for the next 50 years in order to protect the jobs of professional drivers.
26 Apr 2017
Driverless cars to be tested on UK roads in 2019
Driven, a consortium of British companies, has unveiled plans to test driverless cars on UK roads in 2019; previous trials in UK didn't take place on public roads.
Though the vehicles will have full autonomy, a human will also remain on board.
The government has approved an £8.6mn grant for the project; an insurance company will assess risks at each stage.