Science
India's Nuclear Fuel Complex breaks its own world record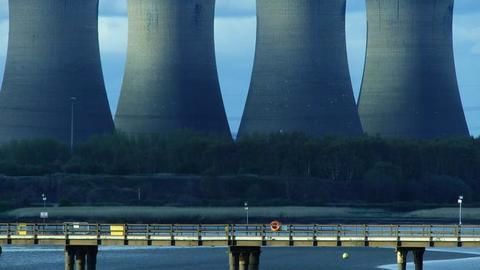 While the global nuclear industry is going through a meltdown, India's Nuclear Fuel Complex (NFC) seems to be on a roll.
NFC became world's highest producer of nuclear fuel last year.
NFC, part of the Department of Atomic Energy, again made a new world record of producing 1512 MT of nuclear fuel in 2016-17 breaking their own previous record.
In context:
NFC becomes highest producer of nuclear fuel again
02 Jul 2017

India's first commercial fast breeder reactor at Kalpakkam
Indian nuclear scientists are in the final stages of starting a high-tech 'Fast-Breeder Reactor' (FBR) in Kalpakkam in Chennai. FBR will generate more atomic fuel than they consume as they work.
The world's only commercially operating fast breeder reactor is situated in Russia and now India will be having it.
Let's understand more about it.
What are fast breeder reactors?

Fast breeder reactors derive such a name because the neutrons which help in atomic chain reaction, travel at a much higher velocity than the neutrons which aid in the running of the plant. These reactors generate more fuel than they consume, hence the name breeders.
Love Tech news?


Stay updated with the latest happenings.
Nuclear

Comprehensive nuclear fuel manufacturing cycle
Established in 1971 for supplying nuclear fuel bundle and reactor core components, NFC is the only organization in the world that has a comprehensive nuclear fuel manufacturing cycle.
As per the organization, this incredible success is entirely credited to the improvement of technology and dedicated hard work of the employees.
NFC

Fuelling India's innovation drive
NFC also manufactures Zirconium alloy reactor core structurals for PHWRs and BWRs.
Recently it has started working on setting up the Prototype Fast Breeder Reactor (PFBR) at Kalpakkam, Tamil Nadu.
Throughout the years NFC has taken care of all the nuclear requirements of national departments of energy, space and defence and it still continues to play a pivotal role in India's growth.
15 Apr 2017

India's Nuclear Fuel Complex breaks its own world record
Laurels

Soaring high above others in excellence
Initially, NFC had started with a capacity of mere 100 MT per year and then augmented the production of fuel that is required in Pressurized Heavy Water Reactors (PHWRs) and Boiling Water Reactors (BWRs).
Now not only in nuclear fuel production, the organization also holds a world record in producing the highest amount of Zirconium Oxide powder (1154 MT) and Zirconium Sponge (759 MT).
Love Tech news?


Stay updated with the latest happenings.
Plans

Future plans on the anvil
Presently NFC is working on the expansion of its facilities to meet the requirements for setting up twenty, 700 MWe PHWRs across the country.
As part of Modi's initiative to fast track all the setting up of new nuclear plants, NFC is establishing a new green-field project at Rajasthan, designed to produce 500 Tonnes of 37 element PHWR fuel bundles per year.
Nuclear weapons

India's stance in clearing nuclear stockpile
India has been declared a nuclear weapon power almost two decades ago.
In March this year, at the UN, diplomats from 130 countries have finally started formal talks in favour of passing an international treaty in order to make producing, possessing, threatening to use or using nuclear weapons illegal.
India, along with other eight nuclear weapon countries didn't take part in it.
Deals

India's nuclear deals with other countries
India already has made a deal to buy French and American nuclear reactors, although the deals now appear to be uncertain as, French nuclear giant Areva and American atomic giant Westinghouse Electric Company, LLC both went through a bankruptcy recently.
Despite producing a record amount of nuclear fuel, India lacks uranium resources and has signed a treaty with Australia to import the same.
Nuclear energy vs fossil fuel energy

Worldwide, there are over 400 commercial nuclear reactors but there have been only three major disasters due to them in the history of using nuclear energy, whereas, there have been ten major disasters in the past 25 years when it comes to fossil fuel energy.