Robots in medicine- Asia's first robotic implant for Parkinson's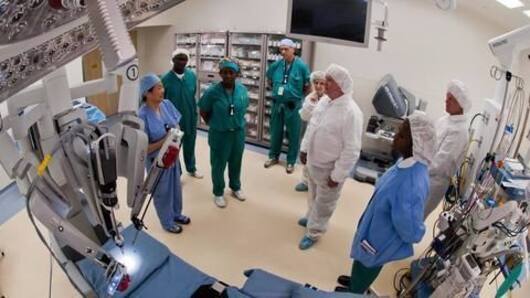 For the first time in Asia, a patient suffering from Parkinson's disease was treated successfully with a Deep Brain Stimulation implantation performed by a robot.
During the surgery at Kochi's Amrita Institute of Medical Sciences, ROSA, the robot, could achieve a level of precision unattainable with human hands.
There have been exciting developments in medical robotics. But do the benefits outweigh the costs?
In context
Surgeon-less surgeries are in!
ROSA
ROSA gave Zubair a fresh lease of life
45 year old Zubair from Kerala was diagnosed with Parkinson's 10 years ago. Over the years, his fits turned more violent.
The autorickshaw driver would often get attacks while driving; he would then ask the passengers to disembark and take another auto.
Medicines could provide only temporary relief.
When his wife approached the Amrita Institute, it introduced them to ROSA, the robot.
Beginning
Medical robots entered the scene in early 2000s
Since the early 2000s, when Intuitive Surgical designed the da Vinci robots, over two million surgeries have been performed globally by them.
The initial aim was long-distance operations: a doctor sitting somewhere could operate on sick people elsewhere, but there were financial and technological obstacles.
Medical robotics is now being developed to achieve higher levels of precision and reduce time taken for surgeries.
Love Tech news?
Stay updated with the latest happenings.
Notify Me
Robots in the field
Robots aren't feasible for all kinds of surgeries, but they have been used with much success particularly in urology and gynecology: they have performed prostatectomies, hysterectomies, as well as cardiac valve repair and other complicated surgeries.
India
Even Indian government hospitals experimenting with robots
Earlier this month, Delhi's Safdarjung Hospital said it is in the process of acquiring a robot worth Rs. 18cr to conduct surgeries.
For poor, it will be free, while those who can afford private wards would have to pay a subsidized cost.
"If it works out well, we will buy more robots for other departments," said Anup Kumar, head of urology and renal transplant.
Future
What's the future look like?
Research firm Gartner recently released a report which predicted that robots will replace professionals in medicine, IT and law in another five years.
While Artificial Intelligence is expected to hit employment, it will also provide more time to practitioners to improve quality of service.
With AI's level of precision and man's capacity to solve complex problems, both entities can work together for best results.
Problems
However, a range of problems lies ahead
Despite tremendous developments, the path is full of thorns: robots are vulnerable to hackers, opening up a whole new gamut of dangers.
A specific skill set is necessary to use them. While most doctors of the older generation aren't qualified for it, younger ones, meanwhile, are losing the ability to conduct open surgery by hand.
Autonomy
The ultimate aim: full autonomy
Most experts agree full autonomy to robots in medicine is a remote possibility.
"The operating theatre is a mess to a computer and it will be very hard for it to make sensible decisions," says Tony Belpaeme, Plymouth University professor.
Last month, academics proposed categorization of autonomy, from no autonomy (doctors will control robots) to full autonomy (robots will perform the entire surgery alone).
Meanwhile, Zubair has found a new lease of life
Zubair, whose symptoms have disappeared, is grateful for the robotic procedure. "After so many years, I can watch a movie with my family without any disturbance. Earlier, I couldn't go to social gatherings or even attend family functions because everyone would stare at my tremors."