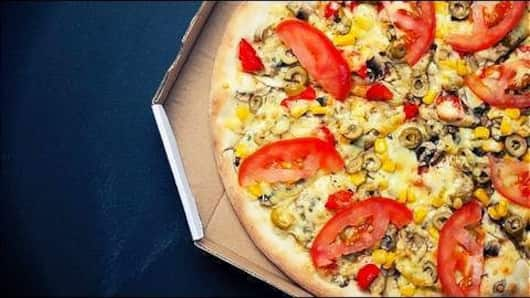 Apple's patented round pizza boxes - iPizza Boxes?
Apple's long-awaited 'Apple Park' in Cupertino is ready and you can't help but marvel at its elegance!
While the new campus includes many inventions, one innovation was totally unexpected- a pizza box.
Apple Park Café Chief, Francesco Longoni, helped the tech-giant patent a box to keep pizzas from getting soggy.
Let's know more about the tech-food crossover and other cool details about Apple's 'Spaceship'!
Apple strives for perfection everywhere
Apple is inspiring all its employees, from engineers to café managers to "aspire for ever-higher levels of quality and innovation."
The patented pizza box is a container designed to minimize storage space and "preserve and enhance the overall culinary experience."
It prevents moisture from being trapped; its lid has openings to allow steam to escape from the pizza so that it doesn't become soggy.
One of Jobs's last projects
Apple's new headquarters 'Apple Park' in Cupertino will replace the current 1 Infinite Loop campus. The new campus has earned the nickname of 'Spaceship' for its circular design and extreme scale. The iconic "Spaceship" campus is one of Steve Jobs's last projects.
Love Tech news?
Stay updated with the latest happenings.
Yes, notify me
Long awaited spaceship-style base 'Apple Park'
Apple Park, spread over 175 acres, will house over 12,000 employees.
The campus is entirely powered by renewable energy, primarily from the rooftop solar panels.
It has a 100,000 sqft fitness and wellness facility, including a two-storied yoga room, seven cafeterias and the largest three-level café that seats 3,000 people.
The estimated cost of the project is $5 billion.
Unique design for toilets - iThrone?
According to some reports, even the toilet seats at the new campus would resemble the company's iconic smartphone, the iPhone. Crazy! The design reportedly includes the curve of a rounded corner and elevator-style buttons similar to the iPhone's home button.
Steve Jobs envisioned the center for "creativity and collaboration"
Credits:
"Flawless curves, milled aluminum, endless glasses, and walled gardens." Sounds totally like an Apple product!
Apple Park reflects the tech-giant's detail-oriented device design approach, from the hand rails to the fonts used to the sleek circular central building (the Ring, as Apple calls it) and the surrounding glass exterior.
It has a big theater named in memory of the late co-founder Steve Jobs.
Less like an office, more like a nature refuge
Steve Jobs wanted Apple Park to blur the border between inside and outside; a nature refuge more than an office park.
Apple will fill the premises with lots of greenery- 9,000 trees, shrubs, flowers.
There will be no fans and air-conditioners; instead, open windows will regulate temperature.
The ring-like building circulates air and the concrete floor is cooled/heated with water tubes when temperatures fluctuate.