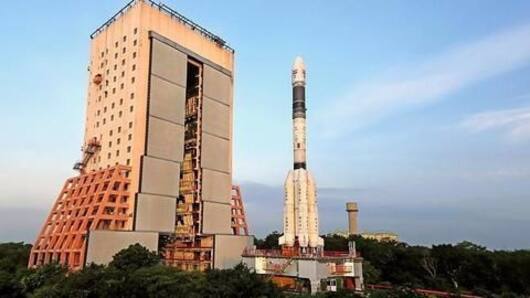 ISRO launches 31 satellites, including Cartosat, into space
ISRO launched 31 satellites, including the Cartostat-2 series earth observation satellite, into space from Sriharikota in Andhra Pradesh at 9:29am today.
The satellites, which collectively weigh 955kg, were launched by ISRO's Polar Satellite Launch Vehicle (PSLV-C38).
This is the PSLV's 40th flight overall and 17th in the XL configuration.
Besides the Cartosat-2, the PSLV launched 30 nano satellites from 15 countries, including India.
Cartosat-series satellite: Capable of providing scene-specific spot imagery
The satellite carries a state-of-art Panchromatic (PAN) camera that can take black and white pictures of Earth in the visible region of electromagnetic spectrum.
The swath covered by the camera is 9.6km; the spatial resolution is less than one meter.
It can steer up to 45 degrees along and across the track, covering the entire globe in 1867 orbits on a 126-day cycle.
The best-in-class remote sensing satellite
Cartosat-2C's PAN camera, made at Ahmedabad's Space Applications Centre, can cover 50% of the payload area.
Cartosat-2C is also the best-in-class remote sensing satellite that clicks pictures of areas of interest, records videos of sensitive targets, compresses and relays them back to Earth.
It produces black and white images of up to 100cm in resolution, compared to 80cm American DigitalGlobe's multispectral satellite Ikonos.
Love Tech news?
Stay updated with the latest happenings.
Yes, notify Me
Buying images from Ikonos
India used to buy images in bulk from Ikonos at about $20 per sq-km of imagery in the past. With Cartosat-2 satellite offering a better resolution at 20 times less cost, the purchasing of images from Ikonos decreased.
Gave teeth to India's military surveillance and reconnaissance capabilities
Credits:
The Cartosat-2C series satellite has been providing high-resolution images of 0.65 meters to the military, an improvement of over 0.8 meters resolution of the earlier missions.
The first major use of the satellite by the military was during the Sep'16 surgical strike.
The Army commandos counted on the images provided by the satellites to hit terror launch-pads across the LoC.
Images save manpower and help in getting accurate geographical data
The Cartosat satellite's imagery is significantly used for cartographic and urban and rural applications, and coastal land use and regulation.
It is used for utility management such as road network monitoring, creation of land use maps, water distribution, precision study, change detection to bring out geographical/manmade features.
Various other land information system and geographical information system applications also use the imagery.
An ISRO official's statement
An official stated, "Demand of Cartosat images has increased in recent years as most departments of the Union government are relying on satellite images to get accurate data about a geographical area to implement their development projects."