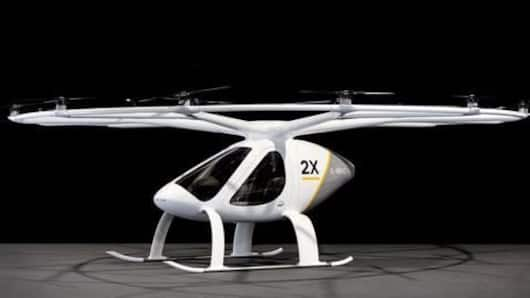 This electric multicopter to hit Dubai skies, soon!
German aviation start-up Volocopter, formerly known as E-volo, has struck a deal with the Road and Transport Authority (RTA) of Dubai.
It will start testing its 18-rotor electric multicopters as part of a flying taxi service from the fourth quarter of 2017.
The start-up's experiment is scheduled to last for a five-year period according to the agreement with Dubai's RTA
Very grateful and proud: Volocopter co-founder Alexander Zosel
Volocopter's deal further cements Dubai's worldwide reputation as a testing ground for some of the transportation world's "more futuristic and outlandish" ideas.
Volocopter co-founder Alexander Zosel said they are grateful and proud that RTA selected them as their partner after rigorous testing.
He added the stringent safety standards of the company are one of the reasons why Volocopter was selected.
Transforming Dubai into the world's smartest city
Director-General and Chairman of Dubai RTA's Board of Executive Directors, Mattar Al-Tayer, stated: "The move also echoes Dubai's Smart Autonomous Mobility Strategy that seeks to transform a quarter of the total mobility journeys in Dubai into autonomous transport by 2030."
Love Tech news?
Stay updated with the latest happenings.
Yes, notify me
About Volocopter's VC200 and 2X
Volocopter's prototype VC200 had taken its first crewed flight in 2016.
Its first production model '2X' was unveiled at AERO Friedrichshafen in Apr'17.
2X has a maximum range of 17 miles when flying at a speed of 43mph; however, its maximum speed is 62mph.
It can fly for a maximum of 27 minutes at an optimal 31mph cruise speed.
Other aviation deals struck in Dubai
Germany's Volocopter isn't the only company to start flying taxi service in Dubai's airspace.
In Feb'17, Dubai's RTA had struck a deal with Chinese drone maker Ehang and announced it would be testing the company's single-person quadcopter as a transit alternative.
American transportation company Uber is reportedly in talks with Dubai authorities to demonstrate its own flying taxi service in 2020.
World's first passenger-ready hyperloop
Dubai isn't only testing the autonomous drones but also another interesting transit alternative - tube-based travel.
The city is currently working with Los Angeles-based Hyperloop One, the futuristic transportation start-up, for building the first passenger-ready hyperloop in the world.
Designers imagine the Dubai hyperloop to be a transportation system that is both ultrafast and smartphone-based on-demand service, similar to Uber.