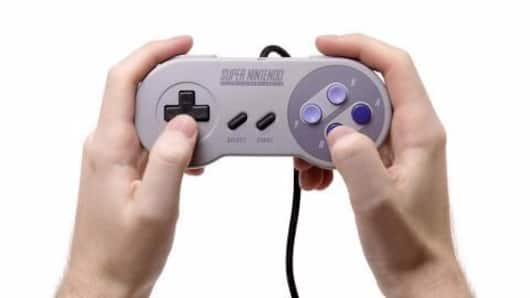 SNES Classic, because retro games are still good as gold
Gamers all around the world are now excited about the launch of a mini version of 1990s gaming hit 'Super Nintendo Entertainment System' (SNES), which sold 50 million units worldwide.
Gamers have been cribbing about the abrupt discontinuation of NES Classic, which was launched last year. Nintendo has promised that they would not repeat their mistake this time.
Here's all about it.
The NES Classic fiasco
After the discontinuation of NES Classic, the gaming community accused that the firm was creating an intentional scarcity as part of their marketing ploy to gain more attention.
Nintendo said that the NES Classic had to be discontinued because the firm had limited resources, but this time they would produce more units of Super NES Classic Edition so that, there is no deficit.
What are you getting your hands on?
SNES Classic gaming titles include Contra III: The Alien Wars, Donkey Kong Country, EarthBound, Final Fantasy III, F-ZERO, Kirby Super Star, Kirby's Dream Course.
It'll also have The Legend of Zelda: A Link to the Past, Mega Man X, Secret of Mana, Star Fox, Star Fox 2, Street Fighter II Turbo: Hyper Fighting, Super Castlevania IV.
Wait, I am not done yet.
Love Tech news?
Stay updated with the latest happenings.
Yes, notify me
That was a mouthful
And Super Ghouls 'n Ghosts, Super Mario Kart, Super Mario RPG: Legend of the Seven Stars, Super Mario World, Super Metroid, Super Punch-Out!! and Yoshi's Island.
Whew! Now, I am done.
However, there are two hiccups. First, the firm hasn't said by "more units" they exactly mean how many and more importantly, if they would continue making SNES Classic beyond the end of 2017.
Its raining classics
This console is going to cost $79 in the US, and £79.99 in the UK. Indian price and availability are not yet known. Sega has also promised to re-release its arsenal of old classics game online.
These games will contain advertisements, which one can stop by paying a one-off $1.99 fee.
It's retro time for the gaming world and everybody loves it.