Science
How can you reserve your Tesla's Model 3?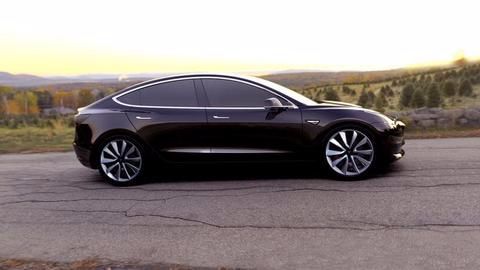 Interested people can head over to Tesla's website and simply fill a form at www.tesla.com/model3/reserve and pay a fully-refundable reservation fee.
Anyone from the countries listed on Tesla.com, including India, can reserve Model 3.
A person can make only two reservations at $1000 (approximately Rs. 64,500) each.
The website says people making reservations now won't receive their Model 3s until mid-2018.
In context:
All about Tesla's Model 3!
Model 3

Tesla Model 3: Elon Musk shares first look on Twitter
To the delight of Tesla fans and electric car enthusiasts, the first production Tesla Model 3 sedan has finally rolled off the assembly line.
Tesla Co-founder and CEO Elon Musk tweeted the first photos of the vehicle outside the company's factory in California.
The base price for the "affordable" car is $35,000 (nearly Rs. 22,58,000).
Know more about the highly-anticipated car!
10 Jul 2017

How can you reserve your Tesla's Model 3?
Love Tech news?


Stay updated with the latest happenings.
First car

First car to be delivered on 28 July
The Model 3 is the first mass-market vehicle of the electric car making company.
The first 30 reservation holders of the car will receive their vehicles on 28 July.
Tesla has received nearly $500 million in Model 3 deposits ($1,000 per car) so far.
The price of the four-door sedan is reportedly half of the company's next "cheapest" vehicle.
Owner

First owner of the new Tesla car
The first Model 3 has come into the possession of its owner and it's none other than Elon Musk.
The first person who pays full price will get the first edition of any new Tesla car.
But Musk got the new vehicle because the first pre-order customer and Tesla board member, Ira Ehrenpreis, gave his place to Musk as his 46th birthday gift.
Production

Model 3 reservations continue to rise but production slow
Tesla already holds over 500,000 reservations for Model 3, unveiled in Mar'16, but the production would initially be slow.
After 28 July, Tesla would make 100 cars by August and another 1,500 by September.
Tesla plans to reach a production rate of 20,000 cars per month by December-end; it wants to double the rate next year and then quintuple by 2018-end.
Specifications

Model 3's specs and features
Model 3, designed to seat five persons, is made of cheaper steel and lightweight aluminum.
Apart from giving a "sense of openness", its glass roof can manage heat and block harmful UV rays.
Right from the car's speed to navigation, everything can be controlled from a 15-inch touchscreen display.
Detailed specs and features would be unveiled at the launch event on 28 July.