In first such instance, Redmi Note 4 bursts into flames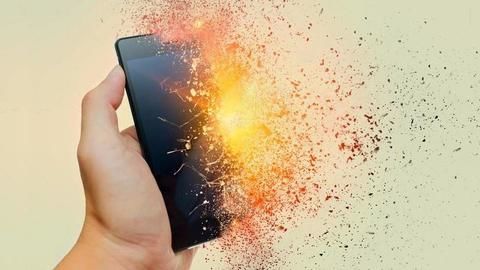 Samsung made it to the news after several incidents of Galaxy Note 7 exploding randomly. There have been reports of Xiaomi smartphones blasting too.
But in the first such reported incident, a Redmi Note 4 exploded while a person was trying to insert a SIM.
The incident happened at a retailer in Bengaluru. Whether anyone was injured isn't known yet.
In context
Redmi Note 4 explodes: Should customers be worried?
Details
What happened?
Arjun, a Bengaluru resident, had taken his Redmi Note 4 purchased last month to a nearby store on July 17 for having the SIM card inserted.
As an employee attempted to open the SIM slot, it burst into flames in his hands. People rushed to put out the fire.
The incident was captured on CCTV. The owner has filed a police complaint against Xiaomi.
Past
A fiasco for Samsung and Xiaomi
Coincidentally, same day last year, an Mi 4i exploded while simply lying on a desk.
In 2016, about 100 incidents of the Galaxy Note 7 overheating were reported. Samsung recalled millions of units.
The problem was the flammable liquid in the lithium ion batteries.
According to a report, the Note 7 battery "placed pressure on plates contained within battery cells", making it vulnerable.
Love Tech news?
Stay updated with the latest happenings.
Notify Me
Incidents
Phone explosions since 2003-04 have killed people, burnt down houses
However, Samsung and Redmi aren't the first to be hit by cases of exploding phones. In 2007, Nokia recalled about 46mn BL-5C batteries after about 100 incidents of overheating were reported.
As far back as 2003-04, Nokia, LG and Kyocera were in the news too for similar incidents.
Phone explosions have even killed people and burnt down houses.
31 Jul 2017
Xiaomi issues clarification on 'fake' Note 4 explosion video
After a purported video of a Redmi Note 4 exploding at a Bengaluru retailer went viral, Xiaomi issued a statement claiming it "has no relation" to their phone.
According to Xiaomi, they replaced the customer's damaged phone; the old one didn't explode.
The video in circulation was recorded at a Kerala store and didn't feature Arjun, the alleged customer in the incident, at all.
Precautions
Meanwhile, here's how you can ensure a safe environment
Keep an eye out for danger signals. Stop charging if the phone becomes too hot. Let it cool before re-charging.
Use branded first-party chargers. If you are charging via USB, it is better to use the one provided with the phone.
If you notice the battery swelling, remove it and dispose it off at authorized facilities. Do not discard it in the trash.