Google to soon launch Facebook-like personalized Feed in India!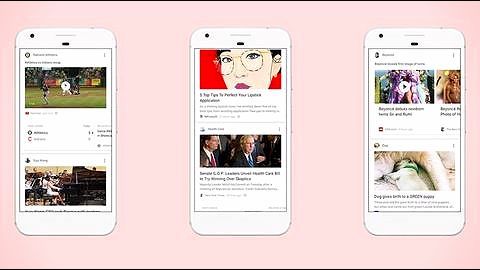 Google is doubling its efforts to reach local language-speaking Indian users by focusing on regional content.
It has confirmed the Facebook-style personalized content service, Google Feed, would soon be available in 20-odd Indian languages.
Feed was earlier introduced on Google app for Android and iOS platforms in US.
Additionally, It would launch Google Home, its smart speaker and home assistant, in 2018.
Here's more.
In context
Google to expand its reach in India
India
Will bring Feed to India shortly: Google Search VP
Google Search Vice-President Shashidhar Thakur said India is their "super high priority."
He said they are putting efforts into increasing Google's language diversity in India.
He added Google is investing in local content but faces various challenges in building such things into the algorithms, considering India's variety of regional languages.
However, he said investing in such aspects would further improve the Feed experience.
Google's Shashidhar Thakur on investing in India
Thakur said India is crucial for testing how products are received by upper and upper-middle classes, allowing them to experiment with offers and deals for the products. However, he added Google is currently focusing "on becoming stronger with Indian languages and understanding local content needs."
Love Tech news?
Stay updated with the latest happenings.
Notify Me
Google Feed
Feed displays news stories, features, videos, music
Google Feed aims to show customized content to users even before they search for it.
It offers news feed based on user's location, favorite topics, search history, etc. with the help of AI-based Assistant.
It was first launched in the US in July; Thakur didn't confirm Feed's launch date in India.
Google plans to release 'new-to-you' feature in Feed later this year.
Google's AI-based smart assistant
Google executives said the AI-based smart speaker and home assistant, Google Home, would be launched in early 2018. Google's rival Amazon is introducing its intelligent voice assistant 'Alexa' in India through its 'Echo' speaker in 2017. Amazon has been testing regional languages for the same.
Local Flavor
Google replicates learnings from India in other countries too
Google implements the knowledge gained in India in other markets like the UK, South Africa, and Australia.
The tech-giant wants to do the same with Google Home; it would explore the use of some regional languages on its smart assistant.
Plans on offering 'local flavor' with Google Home are still nascent, but Google's work in India could benefit both India and the assistant.
Plans to test Hindi and Tamil
Thakur said: "Hindi and Tamil are some of the languages that Google will test out for Google Home. Ultimately, Google Home will aim to be an Indian household's go-to source for booking a cab, setting reminders, playing music, turning off the lights and so on."