Jeakson Singh, the midfield engine that keeps U-17 side running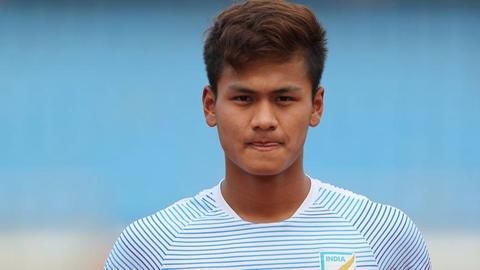 Jeakson Singh Thounaojam, India U-17 football team's defensive midfielder, is good at organizing the crucial midfield and closing down the opposition.
The 16-year-old from Manipur is a relentless player, who went from missing the initial cut for national U-17 squad to being chosen to play the World Cup.
Let us have a look at the journey of Jeakson.
In context
India U-17 football team's midfield general, Jeakson Singh
Background
Football in the family
Born in Haokhao village in the Manipur's Thoubal district, football runs in Jeakson Singh's family.
His father Deben Singh was a footballer for Manipur's clubs NISA and Manipur Police, who later trained Jeakson and his cousin Amarjit Singh Kiyam, who is now the U-17 captain.
Jeakson's elder brother Jonichand, is a former India U-19 player who now plays for Calcutta Football league team, Peerless.
We can play at the highest level, says Jeakson
"People think the level of Indian football is very low, that is a wrong notion...We want to show the world that we can play at the highest level," says Jeakson.
Love Sports news?
Stay updated with the latest happenings.
Notify Me
Son of a vendor
Financial crisis not an impediment
While Jeakson went to train at Chandigarh Football Academy (CFA) along with Amarjit, his father's illness left the family struggling to make ends meet.
His family depended on his mother's meagre income from selling vegetables.
The crisis at home however did not impede Jeakson from pursuing his dreams.
However at CFA, Jeakson was not selected for the AIFF trials for potential U-17 players.
Turning point
Move to Minerva academy
Not giving up hopes after rejection at CFA, Jeakson moved to Minerva Academy. There he was part of Minerva's team that won AIFF U-15 and U-16 Youth League titles in successive years.
This resulted in Minerva being invited to play the India U-17 team, a match which Minerva won eventually leading to drafting of Jeakson and three others from the club into India U-17.
Favourite footballers
Indian football legend Baichung Bhutia and internationally Sergio Busquets are Jeakson's idols.