T20 rankings- India continue to be fifth after Australia series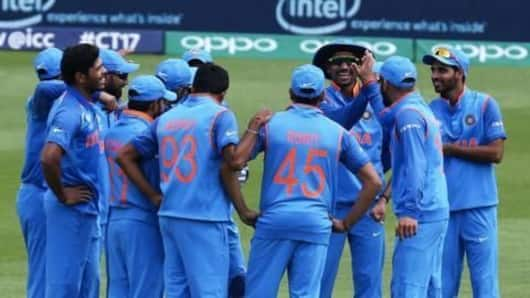 After a 1-1 tie against Australia in the recently concluded T20 series, India have continued to hold on to their fifth place in the latest ICC T20 rankings.
India would have climbed to the second spot if they had beaten Australia 3-0.
The Indian cricket team is already ranked number one in both the test and the ODI rankings.
In context
ICC T20 rankings: India eye top spot?
Australia climb one spot to become sixth ranked
After defeating India in T20 match at Guwahati, the Australian cricket team have climbed one place to sixth position in the T20 rankings. With 111 points, they are five rating points behind India.
Mission 111
How can India become number one in T20s?
Having attained top spot in the OD's and tests, Indian cricket team will look to become number 1 in the shortest format of the game to dominate the cricketing world.
With the New Zealand series coming up, India will have to whitewash the Kiwis 3-0 to reach the top spot.
New Zealand are the current leaders in the T20 format, with 125 rating points.
Love Sports news?
Stay updated with the latest happenings.
Notify Me
Pakistan a hurdle for India?
Second ranked Pakistan will be up against Sri Lanka for a three match T20 series. If Pakistan win all the three games, they will grab the top spot, with NZ on second. They should lose at least one game for India to be on top.
15 Oct 2017
ICC T20 Rankings
In the latest ICC T20 rankings, New Zealand are placed on the top place with 125 rating points.
They are followed by Pakistan (121), West Indies (120), England (119) and India (116).
With Australia (111) on the sixth position, South Africa (110), Sri Lanka (93), Afghanistan (86) and Bangladesh (78) are ranked seventh, eighth, ninth and tenth respectively.