FIFA scandal: Two former South American football officials convicted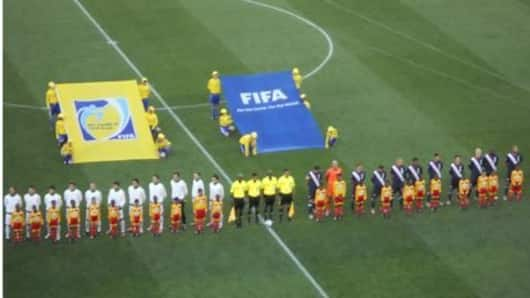 Two former South American football officials have been convicted on multiple charges of corruption by a New York city jury. The conviction is with regard to the ongoing investigations in the FIFA corruption scandal.
This is the first case that was brought to trail in the investigation. Corruption in FIFA came to light in 2015 when 7 officials were arrested in Zurich.
Here's more!
In context
All about the FIFA scandal!
Top bosses guilty
Trial exposes bribe culture in FIFA
Juan Angel Napout, former president of South American Football Association and Jose Maria Marin, former president of Brazil's Football Federation, were found guilty of taking bribes in exchange for awarding marketing and media rights of international fixtures.
Marin was found guilty of six counts while Napout was found guilty on three counts of racketeering wire fraud and money laundering.
Deep rooted corruption
First two convictions, more await
The jury is yet to give its verdict against Manuel Burga, the former President of the Peruvian Football Federation.
The verdict is expected on Tuesday as the jury needed some more time to deliberate.
Prosecutors have charged 42 people and entities in the case so far and at least 24 have pleaded guilty.
Love Sports news?
Stay updated with the latest happenings.
Notify Me
The genesis
How did the FIFA scandal unfold?
In May 2015, 7 FIFA officials were arrested in Zurich by US Justice Officials on charges of receiving $150 million in bribes.
Searches were conducted at the FIFA headquarters in Zurich on charges of money laundering and corrupt business practices.
The same were regarding the allocation of the 2018 and 2022 World Cups to Russia and Qatar respectively.
All the way to the top
FIFA and UEFA top bosses named in scandal
In September 2015, Secretary General Jerome Valcke was suspended after being accused of involved in a scandal of selling World Cup tickets at inflated prices.
UEFA Chief, Michell Platini, has also been questioned over a disloyal payment of $2 million from FIFA President Sepp Blatter.
Blatter was being investigated over the sale of television rights to the Caribbean Football Association.
The sacking
FIFA and UEFA Presidents banned
In December 2015, Blatter and Platini were banned from football related activities for 8 years by FIFA Ethics Tribunal.
A month later, Secretary General Jerome Valcke was sacked and banned for 12 years
In June 2016 it was revealed that Blatter, Valcke and former finance director Markus Kattner siphoned over $80 million into their own accounts over a period of 5 years.
Club owners involved
PSG owner under the scanner too
After further investigations in October 2017, Jerome Valcke and PSG owner and beIN media chief Nasser Al- Khelaifi were under investigation by Swiss prosecutors on allegations of bribery and fraud.
The investigations led to the current day conviction of two former South American football association bosses, the first in the scandal so far.
With over 42 people named many more will be convicted soon.