Sports
India loses to Guam - 2018 WC qualifiers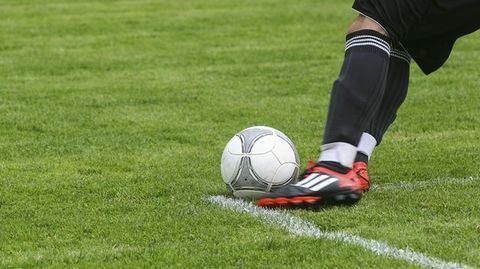 India lost to Guam 1-2 in a second round qualifying match of the 2018 FIFA World cup.
This was the second straight defeat after losing to Oman with a similar score.
The result was disappointing for India, who were expected to beat the side ranked 33 places below them.
The first 2 rounds of FIFA WC qualifiers also act as 2019 Asian Cup qualifiers.
In context:
FIFA World Cup and India
Overview

Introduction to FIFA World Cup
There are 32 teams that play the WC final tournament.
The host country automatically qualifies to play and the rest 31 teams are selected through a strenous qualification process.
The process is undertaken in FIFA's 6 confederations - Africa, Asia, Europe, North & Central America and Carribean, Oceania, and South America.
Each region has its own system to select which countries will represent it.
The Slot Allocation

2018 tournament has the same team allocation as 2014: Africa - 5, Asia - 4.5, Europe - 13, North, Central America and Caribbean - 3.5, Oceania - 0.5, South America - 4.5 and Host - 1.
AFC I

WC Qualification - AFC Part I
All the 46 FIFA affiliated nations of AFC (Asian Football Confederation) have entered the qualification draw of 2018 WC.
Based on the FIFA rankings, 34 highest ranked teams get a 'bye through' to the second round.
In the first round, the remaining 12 teams ranked 35 to 46 play home and away matches.
The 6 teams that win, progress to the second round.
AFC II

WC Qualification - AFC Part II
In the second round, 6 teams from the first round will join the 34 higher ranked teams. The 40 teams are then divided into 8 groups of 5 teams each.
Based on the draw, teams play home and away round robin matches.The eight group winners and the four best group runners-up advance to the third round.
Hence, 12 teams advance to the third round.
AFC III

WC Qualification - AFC Part III
The 12 teams from round two that play the third round are divided into 2 groups of 6 teams each.
Home and away round robin matches are played and top two teams of each group qualify for the 2018 WC.
Thus, 4 Asian teams qualify for the 2018 WC.
Depending on allocation, fourth round may happen between the 2 third-placed teams of each group.
India qualifiers

India in 2018 qualifiers
India was ranked 173 out of 209 football playing nations, before the WC qualifiers started.
After playing and getting through the first round of qualifiers, its rank rose to 141.
India has qualified for round two and has been placed in Group D alongside Iran, Guam, Oman and Turkmenistan.
So far, India has played two matches, one each against Oman and Guam.
17 Jun 2015

India loses to Guam - 2018 WC qualifiers
AFC and WC qualifiers merged

In 2014, the AFC (Asian Football Confederate) Executive Committee ratified the proposal to merge the preliminary qualification rounds for the 2018 World Cup with the 2019 AFC Asian Cup.
13 Nov 2015

2018 FIFA WC Qualifiers-India posts first win
India finally posted a win after five straight losses in their 2018 FIFA World Cup qualifiers as they beat Guam 1-0, in Bangalore.
India, with three points, now at the bottom of the Group D, are out of contention for final round berth in 2018 World Cup.
This victory though has put India in a good position to qualify for the 2019 Asian Cup.