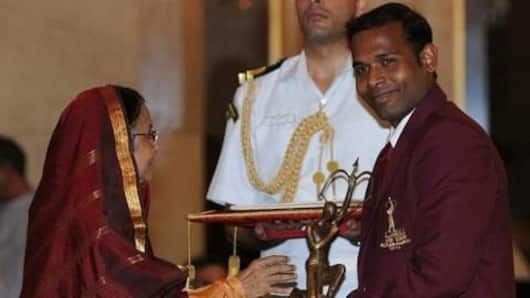 Arjuna awardee para-swimmer suspended for filming female swimmers
In a shocking case, the Paralympic Committee of India has decided to suspend para-swimmer Prasanta Karmakar for a period of 3 years after he was found guilty of recording videos of female swimmers last year during an event in Jaipur.
The incident took place at the National Para Swimming Championship in the month of April.
Prasanta was felicitated with Arjuna award in 2011.
Karmakar suspended for misconduct and misbehaviour
The Paralympic Committee of India stated that Karmakar has been suspended after a written complaint was filed against him for misconduct, misbehaviour and manhandling.
The 37-year-old was filming the female athletes while they were swimming and when their parents objected to it, Karmakar refused to delete the footage claiming he was an Arjuna awardee.
Guilty of filming female swimmers
"He gave a camera to one of his associates and asked him to make films of female swimmers. When the parents objected, the person making videos was called...wherein he told that the camera was given to him by Karmakar" the PCI said.
Love Sports news?
Stay updated with the latest happenings.
Yes, notify me
Karmakar refused to stop shooting despite complaints
The person was stopped from filming but the drama did not end there.
Another complaint was received and this time it was Prasanta Karmakar himself who was filming the girls despite the objection.
Karmakar was asked to delete the video, but he argued and refused to delete it.
He was detained by the police and was released after he deleted the footage.
Karmakar has been suspended for a period of 3 years
"Prasanta Karmakar, will be suspended and is hereby suspended from participation...for a period of three years w.e.f: 20.01.2018 and recommendations be also made to his employer...to take strict disciplinary action against him for his above intentional wrongdoings, misbehavior and indiscipline," the PCI concluded.
Karamakar's achievements
Karmakar was conferred with Swimmer of the Year awards in 2009 and 2011.
He was honoured with the Major Dhyan Chand Award in 2015 and also received the Bheem Award in 2014.
He is the first disabled swimmer to represent India at the World Swimming Championship in Argentina and to bag a medal and was Team India's coach at the 2016 Rio Paralympic games.