Sports
Hockey Champions Trophy : India beat South Korea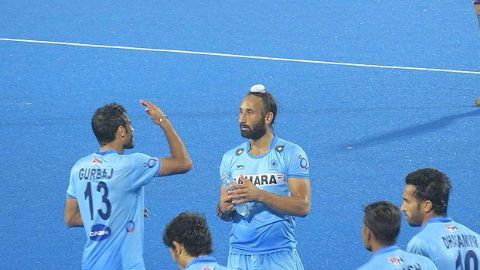 India beat South Korea 2-1 in their fourth Hockey Champions Trophy match, keeping the chances of making it to the final alive.
While Sunil and Nikkin Thimmaiah scored for India, Juhun Kim scored for South Korea.
Registering their second win in the tournament, India moved to second spot with seven points, behind leaders Australia.
With this defeat, South Korea are out of the tournament.
In context:
Hockey Champions Trophy 2016
About

FIH Men's Champions Trophy
FIH (International Hockey Federation) Champions Trophy 2016 is the 36th edition of Hockey Champions Trophy. It was first played in 1978.
The tournament was an annual event until 2012, when it became a biennial one instead.
The last edition of Champions Trophy was held in Bhubhaneshwar, in 2014. It was won by Germany.
Australia are the most successful side, having won it 13 times.
2018 to be last edition of Chmapions Trophy

Started as the showpiece annual tournament, the Champions Trophy will be discontinued after 2018 as the FIH is planning to introduce a new global league.
Love Sports news?


Stay updated with the latest happenings.
Teams

Participating teams and format
The 2016 Hockey Champions Trophy was scheduled from 10-17 June 2016, in London.
This edition of the Champions Trophy returns to the old format of six teams competing in round-robin format.
The top two teams advance to the final and the next best two play for the bronze medal.
The event will see the participation of Australia, Belgium, Germany, Great Britain, India and Korea.
India's best finish at Champions Trophy

India's best finish at the Champions Trophy has been a bronze medal way back in the 1982 edition.
India's

India's first three match results
In the round robin format, each team plays every other team once. So, every team plays five matches each before qualifying for finals.
India started its campaign with a 3-3 draw against defending champion Germany.
In their second match against Great Britain, India edged past the hosts 2-1, to post their first win.
India suffered first loss as they were beaten by Belgium 2-1.
15 Jun 2016

Hockey Champions Trophy : India beat South Korea
Love Sports news?


Stay updated with the latest happenings.
Fifth match to decide the second place

After all teams having played 4 matches each, Australia with 10 points already qualified for finals. For India to advance into finals, they should either win their last round-robin match against Australia or hope for Britain to lose/draw against Belgium.
17 Jun 2016

Britain draw with Belgium, India reach CT finals
In their last Hockey Champion's Tropy game in London, Britain drew 3-3 with Belgium enabling India(7 points) to finish 2nd in the table, guaranteeing a spot for India in the finals.
Britain's draw left them with just 5 points, while a win would have secured them a spot in the finals.
India will face Australia in the finals on the night of 17 June.
18 Jun 2016

India bags silver in Hockey Champions Trophy 2016
India were defeated by Australia 1-3, as the finals of the Hockey Champions Trophy went to a penalty shoot.
Harmanpreet Singh scored for India while Aran Zalewski, Daniel Beale, Simon Orchard scored for Australia.
The last time India made it to the top three in the tournament was in 1982, when India settled for third place.
PM Modi congratulated the team for their effort.