Sports
IAAF doing everything to destroy athletics : Vitaly Mutko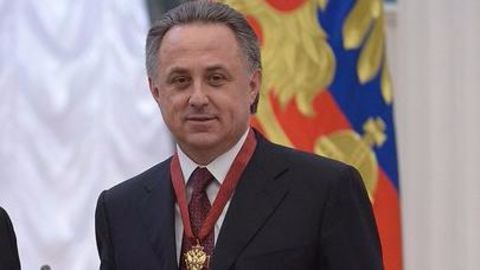 In an open letter to the IAAF, the Russian Sports Minister Vitaly Mutko criticised the organization of causing more destruction than development in athletics.
After IAAF upheld its ban on Russian athletes from participating in Rio Olympics, he said that IAAF had blamed Russia unfairly in the doping scandal.
Furious after the IAAF's decision, Russian President Vladamir Putin said that the decision was "unfair."
In context:
IAAF uphelds ban on Russian athletes
The International Association of Athletics Federations(IAAF) is an international governing body for the sport of athletics.
Founded in 1912, its aim is to ensure smooth functioning, to have friendly co-operation among its members and to make rules and regulations to govern competitions.
Sebastian Coe, a former track and field athlete from the United Kingdom is the President of the IAAF.
November 2015

Russian athletes banned
After a whistle-blower leaked IAAF's blood test records for major competitions, IAAF got itself into one of the biggest controversies in sports.
The data showed extraordinary levels of doping, especially in Russian athletes.
Following a report filed by World Anti-Doping Agency (WADA), Russian athletes were banned from participating in any international athletic event including the 2016 Rio Olympics.
Love Sports news?


Stay updated with the latest happenings.
Not just Russia

Kenyan athletes have also been banned by IAAF for breaching the international rules set by WADA for drug testing. Kenya missed the deadlines set by WADA to prove that measures were being taken by the country to tackle doping.
The latest controversy

Bigger scandal than the FIFA
After a whistle-blower's claim of doping in athletics, IAAF's ethics commission conducted investigations over the corruption and doping allegations.
Lamie Diack, former President of IAAF got arrested on suspicion of corruption and money laundering. Diack had allegedly accepted $1.2 million from Russia's Athletics Federation to cover up the doping cases of Russian athletes.
IAAF lost its biggest sponsor, Adidas, following the controversy.
22 Jun 2016

IAAF doing everything to destroy athletics : Vitaly Mutko
Slight ray of hope by IOC

The International Olympic Committee( IOC ) President Thomas Bach said that some athletes can compete under the Russian flag in the Rio Olympics, if cleared by the IAFF .