Sports
Messi retires from international football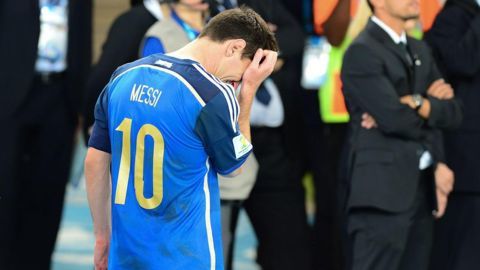 After losing the COPA America Centanario final against Chile, Messi announced that he will take retirement from international football.
In the COPA finals, Messi missed a penalty which led to Argentina losing the match, 4-2 as the match went into penalty shots.
The current FIFA World Player of the Year will, however, keep playing for his club, Barcelona FC.
In context:
Lionel Messi retires from international football
About Lionel Messi

Who is Lionel Messi?
In 2004, Lionel Messi made his debut as a professional football player for Argentina.
A pro-player in the forward position, Messi is known worldwide for his incomparable speed and agility. He is also considered to be one of the best football players in the world.
In 2014, Messi won the FIFA World Cup Golden Ball, which held Argentina as runners-up following Germany's win.
Overcoming a medical condition

During his childhood, Lionel Messi was diagnosed with growth hormone deficiency, a condition in which the body does not produce growth hormones. He shifted to Barcelona after the Spanish club Barcelona FC agreed to pay for his entire medical treatment.
Love Sports news?


Stay updated with the latest happenings.
Achievements

What made Lionel Messi great?
With 55 international goals, Messi is the leading goal scorer for Argentina.
Messi won the 2005 FIFA World Youth Championship, along with the best player award and the award for scoring most goals.
Messi won a gold medal at the 2008 Beijing Olympics.
Often compared with the great Diego Maradona, Messi is the youngest Argentine to play and score in a FIFA World Cup.
Not so great international debut

Lionel Messi had a rather forgetful debut with his national team. During his debut against Uruguay, Messi was given a red card, barely after two minutes of playing, for striking Vilmos Vanczak with his elbow.
Critisicm

Revolving around controversies
On the way to stardom, Lionel Messi, drew a lot of criticism from his national fans.
Messi was often criticised for giving more attention to his club, Barcelona FC, than the Argentine National team.
In recent years, Messi has been the subject of several tax evasion lawsuits in Spain and Argentina for not disclosing the true sum of some of his transfer deals.
27 Jun 2016

Messi retires from international football
Love Sports news?


Stay updated with the latest happenings.
Tried hard, but wasn't successful

After taking retirement, Messi said that he did all he could to win a major title for his national team, but couldn't do it. Adding to it, he said it hurts not to be a champion.
13 Aug 2016

Lionel Messi will come back to the Argentina National Team
According to reports, Lionel Messi will return to the Argentina national team, for the love he has towards the country.
Recently, Messi met with the current Argentina manager Edgardo Bauza.
An official statement quoted Messi, saying, "There are a lot of issues that need to be resolved in Argentine football, but I prefer to help from within and not criticize from outside."