Sports
Djokovic unsure about Rio Olympics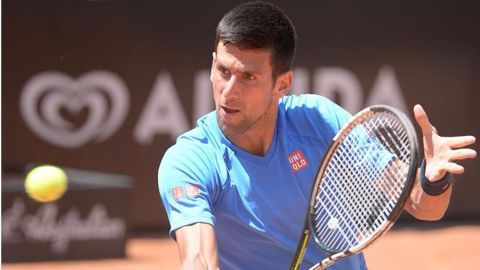 World number one tennis player Novak Djokovic is uncertain of playing in the upcoming Olympics to be held in Rio de Jeneiro amid fears of Zika virus.
The Serbian said that he is trying to reach out to his friends and acquaintances in Brazil to know more about the situation there.
Djokovic said that he will take final decision only after he has adequate information about the epidemic.
In context:
Zika cloud over Rio 2016
Zika Virus disease is a mosquito borne epidemic related to dengue and yellow fever. The potential risks are brain damage and death in rare instances.
Zika Virus was first seen in Brazil last year, but now has spread to more than 50 countries.
The presence of about 5 lakh international visitors in Rio could cause the virus to spread rapidly across the world.
Avoid going to Rio

WHO's concern over Zika
Rio de Jenreiro has most number of Zika virus cases with the number going above 26,000 suspects.
The World Health Organization(WHO) declared Zika as a public health emergency of international concern.
The world body has advised pregnant women to avoid going to Zika affected areas, mainly Rio, but has not issued any travel restrictions on any other countries.
Love Sports news?


Stay updated with the latest happenings.
No reason to delay the Olympics

The International Olympic Committee (IOC) has said that they have no plans to postpone or cancel the Olympics. The IOC along with WHO has been working on the measure to be taken to minimise the risk of visitors coming in contact with mosquitoes.
Health first

Athletes opt out from Olympics
Several athletes have decided to skip the Rio Olympics in August while many are uncertain about their presence.
U.S. cyclist Tejay van Garderen was the first one to withdraw his name from Olympic consideration.
World's top ranked golfer Jason Day joined six other top ranked golfers, who have dropped out of the games.
U.S. basketball star Stephen Curry also opted out of the games.
02 Jul 2016

Djokovic unsure about Rio Olympics
More trouble for Rio

Ahead of the Olympics, Rio de Jeneiro has been surrounded with controversies. The latest being some human body parts that washed up on the shore, right in front of the Olympic beach volleyball arena.
Love Sports news?


Stay updated with the latest happenings.
16 Jul 2016

Milos Raonic and Simona Halep pull out of Rio Olympics
Furthering the blow to the Rio Olympics to be held in August, Wimbledon finalist Milos Raonic and women's world number five Simona Halep of Romania have pulled out because of overarching Zika fears.
They are the first players to have pulled out because of Zika.
More than 20 players, including top golfers like Rory McIlroy have also pulled out citing Zika concerns.
23 Aug 2016

Indian athlete Sudha Singh being tested for Zika
Sudha Singh, who represented India in the 3000m steeplechase in the Rio 2016 Olympic Games is currently being tested for the Zika virus.
Singh complained of fever, tiredness and dehydration when she arrived back in Bangalore at the Sports Authority of India hostel, prompting the tests.
She is currently admitted in Fortis hospital in Bangalore under isolation and is showing signs of recovery.