As the 2018 FIFA World Cup kicks off tonight, there is plenty of excitement and buzz all around the world.
The World Cup opener would see hosts Russia face Saudi Arabia tonight.
The mega sports carnival will conclude on July 15 with the final scheduled in Moscow.
We bring a beginner's guide to football in order to help you get familiar with the rules.
In context
All about the basic rules of football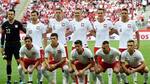 11 players
11 players a side play this beautiful game
Football is called 'The Beautiful Game' and is played with 11 players per side.
A match is played for 90 minutes and it is divided into two equal halves.
Three substitutions are allowed during the game.
A key on-field strategy is 'formation' which tells us how players would position themselves.
A '4-4-2 formation' means there would be 4 defenders, 4 mid-fielders and 2 attackers.
What is the injury time?
After each half of the normal game time of 45 minutes, an injury time is allotted. It is generally in the range of a few minutes, depending on the time wasted on injuries, substitutions and other features.
Love Sports news?
Stay updated with the latest happenings.
Notify Me
Offenses
Yellow and Red card for offenses
When a player commits a foul on field which is serious, he may get penalized with a yellow card.
If the same player receives two yellow cards during a game, then it is turned into a red card and he is sent off.
If a foul or tackle is serious in nature or a player misbehaves, then even red card can be awarded straight-away.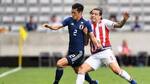 Rules
What is the offside rule?
An offside is called when a pass is played through to an attacking player, and he is closer to the opponent's goal-post than the last defender.
Football pitches have lines of grass, which are deeper and lighter in nature. These markers help a linesman to dictate the offside.
The rule means a player cannot keep hanging around the opponent's goal to wait for passes.
Rules
Extra-time and penalty shootouts
Most league and group matches in tournaments are of 90 minutes and it isn't a necessity to have a winner.
But in knockouts if a match is tied till 90 minutes, then there is an addition of 30 minutes with 15-minute half each.
If the result does not change, then there are penalty shootouts.
For goals, the whole ball must cross the line.
Referees and Linesmen
There are generally three officials on the field. One referee and two linesmen are there to officiate the game. Referees make the major decisions on the pitch. The referee may consult the linesmen any time during a game for making decisions. What is the current scene of the Football Transfer Market?
Asked on 14-06-2018 by Anonymous -
Answered by NewsBytes
There is plenty of action happening in the summer transfer market. Top European clubs continue to be linked with match winners. Today's biggest news is that Anthony Martial is seeking a move away from Manchester United. Arsenal are in the market for two new players. On the other hand, Spurs want a Villa midfielder. For more details, check this link.

Can I know more about 2026 FIFA World Cup?
Asked on 14-06-2018 by Anonymous -
Answered by NewsBytes
The 2026 FIFA WC is going to be the biggest edition ever held. 48 teams are set to take part in an 80-match event, spanning 34 days. Mexico (1970 and 1986) and the US (1994) have hosted the World Cups previously. Meanwhile, Canada hosted the 2015 Women's World Cup. Cordeiro stated that the 2026 event is set to generate $14 billion in revenues. More.

More questions