Ball tampering: Chandimal appeals against suspension by ICC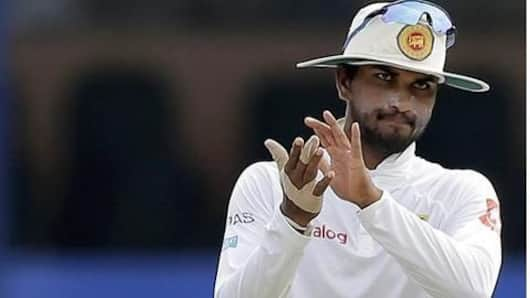 Sri Lanka captain Dinesh Chandimal has appealed against the ICC's decision, which held him guilty of ball-tampering.
Match referee Javagal Srinath handed Chandimal two suspension points, which led to him being suspended from the third and final Test against West Indies.
The hearing will take place on Friday. If the punishment is overturned, Chandimal would be able to play the last Test.
In context
Chandimal appeals against ball-tampering suspension
Serious charge
Chandimal was charged with ball-tampering
The Sri Lankan captain was charged after ICC's video evidence indicated that he had applied saliva onto the ball, immediately after he had put a 'candy' into his mouth.
Chandimal pleaded not guilty of any breach.
However, the match referee slapped him with a level two breach of conduct, which equals to two suspension points and a fine of 100% of his match fee.
Benefit of doubt
ICC has no proper evidence against Chandimal
Chandimal's appeal will be around what he had put in his mouth.
Chandimal had several items in his pocket including cough lozenges and almonds.
However, he claims that he does not remember what he had in his mouth when he was 'caught' on camera.
Since the ICC cannot prove what was in his mouth, Chandimal could get lucky.
Love Sports news?
Stay updated with the latest happenings.
Notify Me
ICC not convinced with Chandimal's defence
"Dinesh admitted to putting something in his mouth but couldn't remember what it was, which I found unconvincing as a defence and the fact remains it was an artificial substance," Match referee Javagal Srinath said in a statement.