Sports
I will be the God of Manchester : Zlatan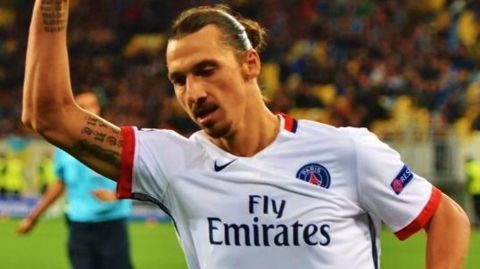 Zlatan signed a one year contract with Manchester United on 1 July 2016.
Welcoming him, former Man U player Eric Cantona said that was the best choice Zlatan has made and he hopes that Zlatan becomes the Prince of Manchester.
Zlatan, however laughed off the message and said that he will not be the prince, but will be the God of Manchester.
In context:
Zlatan Ibrahimovic signs a deal with Manchester United
Zlatan Ibrahimovic

Early life and football debut
Zlatan Ibrahimovic is a Swedish football player. He was born on 3 October 1981.
He started playing football at the age of six and made his debut in 1999 for local club Malmo Bl. He scored 16 goals in 40 matches.
In 2001, he signed a long term contract with Amsterdam club AFC Ajax. He scored 35 goals in 74 matches with the club.
Thief and a bully

Zlatan was known for bullying kids and stealing bicycles when he was in school. But he grew 6 feet 5 inches tall, agile and athletic and that made him more passionate about football.
Love Sports news?


Stay updated with the latest happenings.
Professional Football

Playing for various football clubs
After a successful stint at Ajax, Zlatan was transferred to Italian club Juventus in 2004 for €16 million. He left the club after two years when the club was found guilty of fixing matches.
He moved to Inter Milan in 2006, signing a four-year deal for €24.8 million. He got most of his career success with the club scoring 57 goals in 88 matches.
2009

Barcelona, AC Milan and Paris Saint-Germain
He was traded to Catalan club Barcelona FC in 2009. But he got in a fight with Barcelona manager Pep Gaurdiola and was transferred to AC Milan on loan for the 2010-11 season.
Happy with Ibrahimovic's performance, AC Milan signed a four year deal with him for €24 million at the end of the season.
He signed a deal with Paris SG in 2012.
Exit from Paris Saint-Germain

In May 2016, Zlatan confirmed that he would leave the club. He scored 152 goals in 178 matches during his five seasons with the French club.
National career

Playing for Sweden
Zlatan made his national debut for Sweden in 2001.
He represented his country at the 2002 and 2006 World Cups and 2004, 2008, 2012 and 2016 Euro Championships.
He is the all time top scorer for Sweden with 62 international goals. His 'bicycle kick' goal against England won the 2013 FIFA Puskas Award for goal of the year.
Love Sports news?


Stay updated with the latest happenings.
Sweden Player of the Year

Zlatan was awarded the Guldbollen, given to Sweden Player of the Year, award ten times. He received it nine times in a row from 2007 to 2015.
Zlatan is God

Zlatan and controversies
Zlatan Ibrahimovic has been surrounded by controversies wherever he went to play.
The very first incident was when he threatened his team-mate at Ajax Rafael van der Vaart of breaking his leg.
He was banned for punching Marco Rossi during a match.
Stamping opponents, arguing with management, fistfights were common incidents he would get himself into.
He often referred himself as 'Zlatan is God.'
Retirement

Ibrahimovic was appointed as captain of Sweden football team 2010. After Sweden failed to reach the second round of 2016 Euro Cup, Zlatan retired from international football.
19 Jul 2016

I will be the God of Manchester : Zlatan