Sports
Narsingh Yadav tests positive for methandienone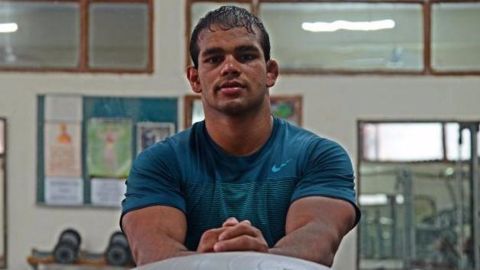 Indian wrestler Narsingh Yadav tested positive for a banned steroid, methandienone.
National Anti Doping Agency(NADA) had conducted a random test on Narsingh on 5th July, just before he left for a warm up tournament in Spain.
The report of his sample A as well as sample B were found to be positive.
Narsingh Yadav appeared before a disciplinary panel regarding the matter.
In context:
Narsingh Yadav's doping controversy
About

What is Methandienone?
Methandienone is a anabolic steroid known to cause an increase in muscle mass. It is mainly used by wrestlers and bodybuilders.
The drug is not sold without a prescription and is banned in the United States.
Side effects such as high blood pressure, unhealthy cholesterol levels and liver damage are known to happen with constant usage of methandienone.
25 Jul 2016

Narsingh Yadav tests positive for methandienone
Love Sports news?


Stay updated with the latest happenings.
Question on Narsingh's Olympic participation

The Wrestling Federation of India has handed provisional suspension to Narsingh Yadav after his tests for a banned drug returned positive. There has been no speculation on his Olympic participation next month.
Narsingh reacts

Foul play involved : Narsingh Yadav
After receiving positive results in a doping test, Narsingh Yadav claimed that there was a conspiracy against him.
Narsingh said, "Someone has sabotaged my food supplements and water intake."
He also said that he has been clean for his entire career of 15 years and would never take any banned substance.
The NADA panel is seeking more reports regarding his tests.
WFI also claims a foul play

A Wrestling Federation of India(WFI) official said, "It is foul play. Narsingh has a very clean history. it is clearly a conspiracy against him."
Punishment for India

What next for Narsingh Yadav?
The panel by NADA has sought more reports regarding the test results of Narsingh Yadav.
If Narsingh is found guilty of doping, he won't participate at the Rio Olympics happening next month.
There will not be any replacement for his place and the berth will go vacant.
It will be a big blow for the World Championship bronze medallist.
Love Sports news?


Stay updated with the latest happenings.
27 Jul 2016

Yadav blames junior wrestler for mixing drugs in his food
Accusing a 17-year-old wrestler of mixing a banned drug in his food, Narsingh Yadav filed a complaint at the Rai police station, Sonepat.
The accused teenage wrestler is also a trainee at the Chhatrasal Stadium in Delhi.
Coach Satpal Singh said, "It's a good thing that Narsingh has filed a complaint. If a cadet from Chatrasal has done this, he will be punished."
27 Jul 2016

Parveen Rana to replace Narsingh Yadav at Rio Games
On 26th July, 2016, the Indian Olympic Association asked United World Wrestling to replace Narsingh Yadav with Parveen Rana in the 74kg category of wrestling.
Sushil Kumar, Narsingh's competitor in the 74kg category, also trains under coach Satpal Singh.
He and Narsingh fought a lengthy legal battle for representing India at the Olympics.
Parveen Rana is considered as Sushil Kumar's understudy.
01 Aug 2016

Narsingh Yadav cleared of charges, could compete in Rio
Wrestler Narsingh Yadav was cleared of his doping allegations by the NADA authorities.
The move paves the way for Yadav to be able to compete in the Rio Olympics.
The NADA panel also stated that Yadav was the victim of foul play and did not intentionally ingest the drug as it was mixed in his food by a junior athlete without his knowledge.
19 Aug 2016

CAS hands 4-year ban to Narsingh Yadav
The Court of Arbitration for Sports, which had earlier hinted at accepting India's NADA decision clearing Narsingh Yadav of doping charges, has now reversed its decision.
In a last minute communique, the CAS handed a Yadav a 4-year ban on participation for doping.
Yadav, who figured in the draws for Friday's bout will now have to clear his accommodation at Rio and return home.
22 Aug 2016

CAS: Narsingh intentionally indulged in doping
The CAS clarified its stance on Narsingh Yadav's ban, stating that the evidence pointed to intentional doping by Yadav.
The CAS said Yadav failed to produce any evidence on the sabotage theory and must have ingested the substance in tablet form on more than one occasion.
CAS relied on laboratory evidence that showed excessive concentrations of the substance in Yadav's urine.
24 Aug 2016

WFI seeks to clear Narsingh Yadav of doping charges
The Wrestling Federation of India has alleged that NADA sent Narsingh Yadav's sample for testing based on a letter sent by someone identified as Ramesh, and demanded that the letter be released.
So far NADA said it had sent Yadav's samples for testing based on WADA's request.
However, WFI and Yadav continue to maintain that a lobby is at work to tarnish his career.
14 Jan 2017

Narsingh Yadav records his statement with the CBI
Wrestler Narsingh Yadav recorded his statement with the Central Bureau of Investigation (CBI) in the doping case against him.
Yadav was banned for four years after he tested positive for methandienone on two occasions, resulting him in getting debarred to participate at the 2016 Rio Olympics.
Pleading non-guilty of the charges, he has alleged that someone else had spiked his food and drinks.