Marcelo writes an emotional post about Ronaldo's move to Juventus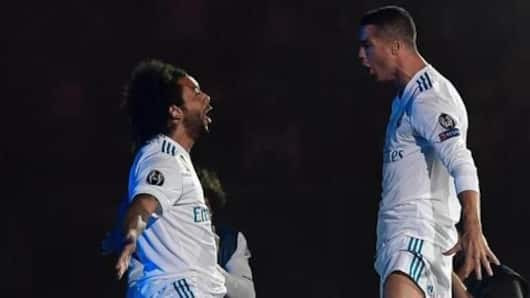 Real Madrid left-back and Cristiano Ronaldo's best friend at the club, Marcelo paid his tribute to the Portuguese superstar.
Marcelo hailed CR7 as a supreme competitor and a treasured team-mate.
Notably, Ronaldo decided to part ways with Real Madrid after a 9-year stint.
As per his wishes, Ronaldo was sold to Serie A champions Juventus for an amount of €100 million.
In context
Marcelo pays heartfelt tribute to Ronaldo
Bothers in arms
Ronaldo has won 4 UCL titles alongside Marcelo
Ronaldo has won 5 Champions League titles in his career so far.
Out of these 5 trophies, Ronaldo won 4 alongside his best buddy Marcelo.
The duo formed the core of the Madrid side, which went on to dominate Europe including a hat-trick of UCL honors.
Apart from their on-field chemistry, the duo are quite close to each other off the field as well.
Marcelo enjoyed wonderful moments with Ronaldo
"I swear I didn't think this day would come! But nothing in this life is forever, I hope you are very happy on your new journey. It was almost 10-years by your side, 10-years of joy, good football, victories, defeats and wonderful moments!" Marcelo said.
Love Sports news?
Stay updated with the latest happenings.
Notify Me
Dynamic duo
Marcelo and Ronaldo's terrific partnership will be missed
Marcelo and Ronaldo have dominated the left wing with Real Madrid.
Even after Ronaldo moved to a more central role, Marcelo continued to provide to the Portuguese sharpshooter.
It was a joy to watch them play together and even better when they performed their trademark goal celebrations.
The duo of Marcelo and Cristiano Ronaldo will definitely be missed.
Marcelo's goodbye to Ronaldo
"I will miss our reviews before the games when you got the results right and before the finals reassured us with your experience...I'm proud to have played with you, not because you are the best player but because of who you are. " Marcelo concluded.