#StatAttack: Interesting statistics of FIFA World Cup 2018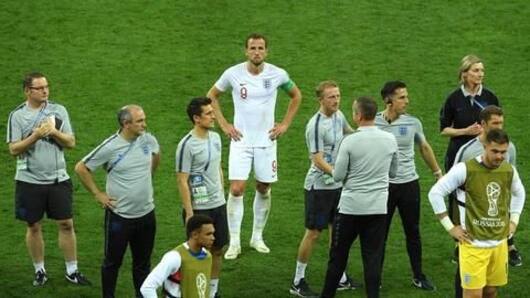 The FIFA World Cup 2018 has been one of the most memorable editions in the history of the sport.
France will be taking on Croatia in the final which is scheduled to be played on Sunday, July 15.
There have been some mind boggling statistics in the 62 matches that have been played, so far.
Here we take a look at the numbers.
In context
FIFA World Cup 2018 in numbers
Kane
Harry Kane leads charge for the Golden Boot
England skipper Harry Kane netted 6 goals in 5 matches, till now.
He is the leading scorer and could add to his tally when England go up against Belgium for the 3rd place finish on Saturday.
Romelu Lukaku has 4 goals from 5 games and he will need to score at least three against England to snatch the prize.
Info
Tournament stats FIFA World Cup 2018
A total of 161 goals have been scored in the 62 matches played till now
Belgium lead the proceedings with 14 goals as Croatia and England have 12 each.
An average 2.6 goals have been scored per match.
213 yellow cards, along with 4 red cards, have been handed out to players.
A total of 47,902 passes have been completed till now.
Love Sports news?
Stay updated with the latest happenings.
Notify Me
Stats
Team statistics of Russia World Cup
Spain went on to amass the most passes completed (3,120).
Croatians, who have reached the final, have the best defending statistics with a total of 272 saves, clearances and tackles.
Quarter-finalists Brazil have created the most attacking chances (292).
Brazil also have the most shots (103).
Croatia come 2nd with 100.
Colombia and Switzerland have the most number of yellow cards (9).
Race
Players who lead the individual stats race
Brazil's Neymar has accounted for the most attempts (27).
He managed 13 shots on target.
Mexico goal-keeper Guillermo Ochoa has accounted for the most saves (25) in just 4 matches.
Belgium's Thibaut Courtois has 22 to his name.
Croatia skipper Luka Modric has covered the most distance on the pitch (63 km).
Spain captain Sergio Ramos made the most passes (485).
The numbers game
The most goals in a match at the World Cup were seven. Belgium 5-2 Tunisia and England 6-1 Panama boast of the record. The Belgium versus Tunisia match saw 31 attempts in a single game. 1235 passes were completed by Spain against Russia.