Sports
Sun Yang looks to put controversies behind ahead of Olympics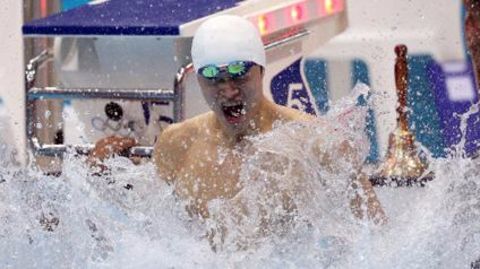 Chinese swimmer Su Yang, who will be defending his title at the Rio Olympics later this week will look forward to put behind the doping and sexual assault controversies behind him.
He will face a tough fight in the tournament from Gregorio Paltrinieri of Italy, Mack Horton of Australia and Connor Jaeger of the USA in the men's 1500m freestyle event.
In context:
Sun Yang's tale of world records and controversies
Sun Yang is a Chinese freestyle swimmer and current world record holder for distance swimming.
He has won two gold medals at the Asian Games in 2010.
In the 2012 London Olympics, he became the first man from China to win a gold in swimming. He won two gold medals in the tournament and also set world record in the 1500 meters freestyle swimming.
Yang banned from all competitions and training

In November 2013, Sun Yang was handed a blanket suspension by the Chinese Swimming Association after he was charged for driving a car without a license. He was away from swimming for almost 18 months and also spent time in jail.
Love Sports news?


Stay updated with the latest happenings.
May 2014

Sun Yang tests positive for a banned substance
In 2014, Yang tested positive for a banned substance, trimetazidine, during the Chinese National Games.
Trimetazidine is used to treat angina or plague build-up in arteries.
He was handed a three-month ban by the Chinese Anti Doping Agency (CHINADA). He was also stripped from his 1500m national title.
Defending himself, Sun told officials that he was taking the drug only for medical reasons.
Sun did not intend to cheat : CHINADA

Backing the three-month ban on Sun Yang, the Deputy Director of the Chinese Anti Doping Agency said, "Sun proved with sufficient evidence that he did not intend to cheat, which helped reduce his ban to three months."
August 2015

Brazil accuses Yang of assaulting their female swimmer
Sun Yang found himself in hot water again after the Brazilian Aquatic Sports Federation filed a complaint against the Chinese swimmer for assaulting their swimmer, Larissa Oliveira, during the 2015 Aquatics World Championships.
He was warming up ahead of the 1500 m finals and the Brazilian swimmer came in his way. He apparently kicked and elbowed the Brazilian after a spat.
Yang misses the 1500 m freestyle finals

Sun Yang did not show up for the finals of 1500 metre freestyle at the 2015 World Aquatic Championships after he engaged in a fight with a Brazilian swimmer. However, Sun told reporters that he missed the finals as he had heart problems.
Love Sports news?


Stay updated with the latest happenings.
02 Aug 2016

Sun Yang looks to put controversies behind ahead of Olympics
Yang overcomes injury to win at Pro Swim Series

Sun Yang faced a foot injury in January this year, but that did not discourage him. He rose to become world no.1, after winning the men's 200m freestyle event at the Pro Swim Series in Santa Clara in June.