Sports
Lehmann's contract extended till 2019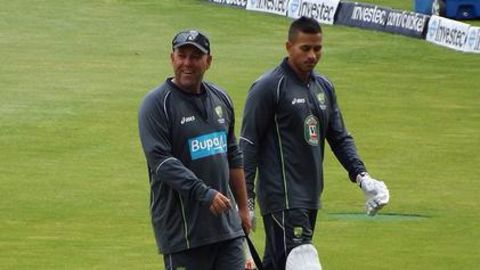 Cricket Australia extended the contract for Coach Darren Lehmann up to 2019.
Australia reached the top of the rankings in Tests and ODIs under Darren Lehmann.
Australia also won their bouts against South Africa, India, New Zealand and West Indies.
Reacting to the extension of the contract, Lehmann said that he had the best job in the world.
In context:
Darren Lehmann's coaching career
About

Darren Lehmann: A profile
Darren Lehmann is a former Australian cricketer. He was a left handed batsman and also a part-time bowler.
His prolific run scoring in domestic cricket got him into Australia's ODI squad in 1996 and test squad in 1998.
He initially had to struggle to be in the Australian team and was criticized for his health and fitness.
Lehmann retires from cricket

Darren Lehmann announced his retirement from all formats of the game in 2007. He had earlier retired from tests in 2004 and ODIs in 2005, even though he continued playing domestic cricket. He played two matches for Rajasthan Royals in the 2008 Indian Premiere League.
Love Sports news?


Stay updated with the latest happenings.
Darren becomes coach

Darren takes charge as coach for Deccan Chargers
Darren Lehmann was taken aboard as a coach for the Deccan Chargers in 2009 after having a disastrous 2008 season.
The team went on to win the 2009 title.
He was later appointed as coach for the Queensland team in 2011, and earned respect from players for his straight forward approach towards cricket.
He won the Sheffield Shield in 2011-12 season.
2012-13

Australia's poor form
Australian cricket was at a low point after losses in several tournaments. The retirement of several experienced players took a toll on the team.
Australia first lost a test series to South Africa and then India. Australia toured England for the Ashes where the hosts beat them 3-0 in a five-match series.
Australia finished last in their group in the 2013 Champions Trophy.
24 Jun 2013

Ahead of Ashes, Lehmann appointed as Australia coach
With just 16 days to go for the Ashes, Cricket Australia appointed Darren Lehmann as the head coach of the Australian cricket team. He took the place of South African Mickey Arthur, after the latter received criticism over his poor performance and disciplinary issues.
On the appointment, Lehmann said that it was a challenging role and he was very excited for it.
2013

Darren takes charge, Australia whitewash England in Ashes
Australia won the Ashes series 5-0 after beating England in the fifth test at Sydney.
Sources said that Australian coach Darren Lehmann had worked hard to discipline the team and control their game play.
A player from the team told that Lehmann believed in old school cricket and was getting the players to be true to the traditions of game.
Love Sports news?


Stay updated with the latest happenings.
Darren guides Australia to another World Cup win

Darren Lehmann was praised for leading Australia to a World Cup win in 2015. One of the strategies which worked for Lehmann was that he acted as an older brother to the young players of the team and spoke to the seniors like peers.
02 Aug 2016

Lehmann's contract extended till 2019