Sports
Goldman Sachs predicts 8 Olympic medals for India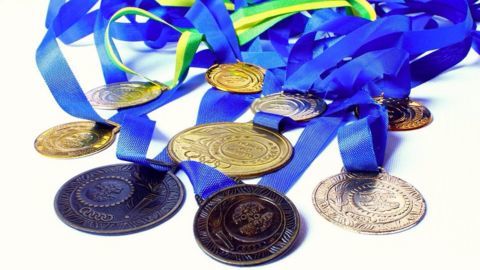 Leading financial institution, Goldman Sachs predicted 8 medals for India in its latest report "The Olympics and Economics."
The prediction includes a single gold medal. It placed India at 50th position in the overall standings.
Goldman predicted 5 medals including 2 gold for India at 2012 Olympics. India's contingent had won 6 medals - 2 silver, 4 bronze, and no gold at that event.
In context:
Rio Olympics medal forecast by Goldman Sachs
About Goldman Sachs

Goldman Sachs is a global investment banking, investment management and securities firm which provides various financial services and primarily deals in institutional clients.
US and China to lead the pack

Goldman Sachs predicts Rio Olympic medal tally
As per the predictions from Goldman Sachs' economic research unit, the US and China are set to clinch maximum medals at Rio Olympics.
The forecast unsurprisingly put US on top with a medal tally of 106 in total, which includes 45 gold medals.
It estimated that China could finish second in medal count with 89 medals, 36 of which are expected to be Gold.
Love Sports news?


Stay updated with the latest happenings.
2012 Olympic prediction for Britain

In 2012, Goldman Sachs correctly predicted that UK, the hosts would win 65 medals. This time around for the Rio Olympics, Goldman Sachs has estimated Britain to finish third with 59 medals.
03 Aug 2016

Goldman Sachs predicts 8 Olympic medals for India
Countries to watch out for

Predictions : Countries that would dominate specific events
Apart from the predictions for number of medals to be won by countries, Goldman Sachs' report also lists the countries that would dominate specific events.
Accordingly, British athletes perform better in 'seated sports' like rowing and cycling. Chinese could dominate table tennis, and badminton.
Further, Australia would excel in triathlon events, Brazil in volleyball, South Korea in archery, Italy in fencing and so on.
Medals vs growth

What do the predictions suggest?
Goldman Sachs predictions showed more medals for countries with a good growth environment and large population.
It revealed that while host nation (Brazil) sees a 30% jump in the medal tally, previous hosts (London) lose 10% of their total medals in comparison to their year of hosting.
Further, countries like Australia and Greece were under-performing in the medals department corresponding to their economic performance.
Love Sports news?


Stay updated with the latest happenings.
Other events predicted by Goldman Sachs

Apart from the 2012, 2016 Olympics, some of the other predictions made by Goldman Sachs include the 2014 FIFA World Cup, and 2016 UEFA Euro Championship. It got both the football event winners wrong.
22 Aug 2016

Goldman Sachs' medal tally misses mark
Goldman Sachs' medal tallies for the Olympics were off for several countries including India, Britain and Greece.
India were projected to win 8 medals but returned with just 2.
Britain were projected to come 3rd with 59 medals but came in 2nd with 66 medals.
Greece were projected to win no medals, but won 6 including 3 gold.