Shoaib and I didn't marry to unite India-Pakistan: Sania Mirza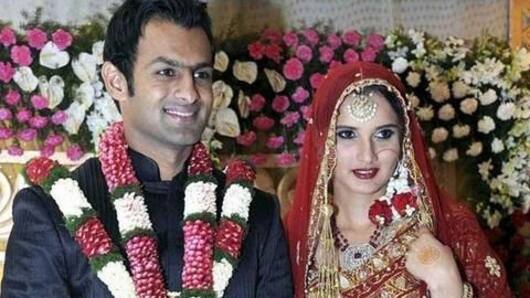 When Indian tennis star Sania Mirza married Pakistani cricketer Shoaib Mallik, both nations spoke about the wedding relentlessly.
Now the star couple is expecting their first child. In an interview with HT, Sania busted the misconceptions doing the rounds about the pair.
For one, Sania and Shoaib didn't get married to unite the two nations, the tennis star clarified.
In context
Sania Mirza speaks on Indo-Pak relations and marriage
The love
Sania's visits to in-laws is full of love, she says
In the candid interview, Sania said, "A lot of people have this notion that Shoaib and I got married to unite the two countries. That is not true."
She then said she visited her in-laws once a year and got immense love from them.
Sania added the entire nation respected and loved her and addressed her as 'bhabhi'.
'I get respect there, Shoaib gets love here,' explains Sania
"I also know that that love is not necessarily for me, it is for my husband who has been cricket captain and what he means to everyone there...Just like when Shoaib comes here, and he gets the love and respect of our countrymen," Sania said.
Love Sports news?
Stay updated with the latest happenings.
Notify Me
The answer
The most-asked question: Will the kid be Indian or Pakistani?
Naturally, their kid is being talked about and given tags already, but that doesn't affect Sania or Shoaib.
"We are aware of the responsibilities we carry, but we do not take these tags seriously. They may make for a good headline, but don't mean anything to us at home!" she said.
So will the kid be Indian or Pakistani? They will decide later.
Baby planning
Husband goals: Shoaib never pressurized Sania for a kid
In the interview, Sania also spoke about baby planning. She said when they got married they knew they won't compromise their careers.
She admitted that Shoaib was more keen on having a child. "But he never told me, 'Maybe we should... this is the time...' I really respect that in a man," she said and added she never felt any pressure.
Couple goals!