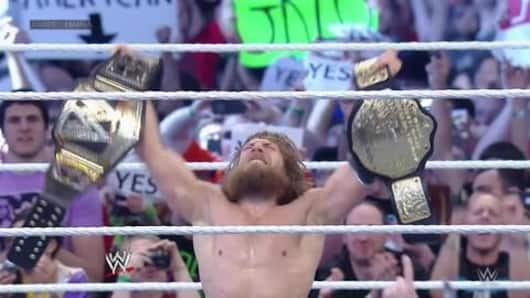 Top 5 underdog stories in the history of WWE
Underdog stories inspire people to work hard and in scripted professional wrestling, such narratives are bound to attract great attention.
WWE has pulled off some of the best underdog tales with exceptional success.
These story-lines have now become the stuff of legends.
Here we present to you 5 such underdog stories, which will definitely motivate you.
Eddie Guerrero winning against the 'Beast Brock Lesnar
Eddie Guerrero is a legend. He was neither big nor strong as most of the top-draw WWE wrestlers of his time.
When pitted against Brock Lesnar at No Way Out 2004, everyone thought Eddie Guerrero was in for a massive beating.
During the match, Lesnar cruelly assaulted Guerrero, but the smaller man fought back hard and won the WWE Championship to loud cheers.
The madman we all loved
Mick Foley's rise to the top was, probably, the most hard-fought.
He endured extreme pain inside the ring and once even lost an ear but continued the match.
For his transition to Mankind, Foley created a sadistic character who would be loved by all.
His WWE Championship victory, in 1999, remains one of the most loved underdog moments in the history.
Love Sports news?
Stay updated with the latest happenings.
Yes, notify Me
The man who was called 'The Ultimate Underdog'
Rey Mysterio has achieved a lot in his career, and notably all of these titles have been from the underdog position.
He was never a dominating figure but made it up with his athleticism.
At WrestleMania 22, Rey was pitted against Randy Orton and Kurt Angle, two wrestlers much bigger than him.
Mysterio's gusto and speed made him the smallest Heavyweight Champion ever.
From a ring crew member to a superstar
Whipwreck was a ring-crew member at Extreme Championship Wrestling when Paul Heyman spotted his talent.
Whipwreck started out by losing to everyone he was pitted against, not gaining a single victory in a long time.
Finally, when he did win, the fans loved him and cheered for him.
Interestingly, Whipwreck went on to win numerous titles over the years.
The leader of the Yes! Movement
He was small, was given 'no shots', and was humiliated by Sheamus within 18 seconds at WrestleMania 29.
However, Daniel Bryan was not someone so easy to vanquish.
He kept fighting on, turning all his obstacles to new milestones.
Bryan's ultimate victory came at WrestleMania 30.
He defeated heavyweights like Batista and Randy Orton to win the World Heavyweight Championship.
Did Eddie Guerrero ever play with the Great Khali?
Asked 2018-08-21 17:37:26 by Anonymous
Answered by NewsBytes
No, Eddie Guerrero never played with The Great Khali.
Who are the top 5 players of WWE?
Asked 2018-08-21 17:36:16 by Anonymous
Answered by NewsBytes
The top 5 Players of WWE are (1)John Cena, (2)Triple H, (3)Hulk Hogan, (4)Steve Austin, and (5)The Undertaker.