Sports
TNPL using VJD instead of Duckworth-Lewis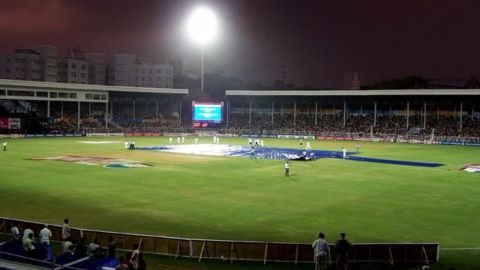 The Tamil Nadu Premier League saw the use of the Jayadevan (VJD) system instead of the popularly used Duckworth-Lewis (D/L) system in a rain interrupted match.
The VJD system was used when the match between Dindigul Dragons and Madurai Super Giants was cut short due to rain.
Dindigul Dragons won the match after each side were given 18 overs each to play.
In context:
A comparison between Duckworth-Lewis and VJD
About

The Duckworth-Lewis method
The Duckworth-Lewis method is a system used to calculate target scores in a limited-overs cricket match which may be interrupted by some reason.
The method was first applied in the year 1997 and has been in use since.
The number of wickets in hand and the overs left to play are used to calculate the number of runs to be scored by a team.
Criticism

D/L method is rubbish: Stpehen Fleming
Over the years, Duckworth-Lewis has garnered criticism from many players and cricket analysts from across the world.
England, India and Australia have repeatedly criticized the system, saying it should be replaced.
During the 2016 Indian Premier League, Rising Pune Supergiants' coach Stephen Fleming, called the system "rubbish" and said that it was unsuitable for 20 over cricket matches.
Love Sports news?


Stay updated with the latest happenings.
VJD Method

An alternative method
The Jayadevan system (VJD) is an alternative method used to calculate target scores during a limited over cricket match.
Unlike the D/L method, VJD only considers the percentage of overs played in the match.
Even though there isn't a massive difference in the scores calculated by both methods, VJD is considered more effective than D/L.
VJD was used in the Indian Cricket League.
ICC throws away VJD method

Devised by V Jayadevan, a civil engineer from

Kerala

, the VJD system was not accepted by the International Cricket Council. In 2012, the ICC said that there were no flaws in the D/L system and that the method did not need an upgrade.
31 Aug 2016

TNPL using VJD instead of Duckworth-Lewis