Sports
BCCI to have new selection process for national selectors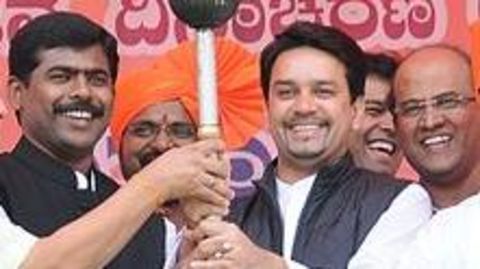 The Board of Control for Cricket in India will now finalize a national selector by a process of individual interviews, ending the previous process of nominations from zonal associations.
The board said that applications from former cricketers are invited and the process will be more transparent than before.
This decision has come after Anil Kumble was selected as the national team coach via interview.
In context:
BCCI gets more transparent
Lodha Panel verdict

Lodha Panel gives its recommendations for BCCI
In light of the increasing instances of corruption and nepotism in the BCCI, a committee under retired Chief Justice of India RM Lodha was appointed to suggest reforms.
The panel suggested that no office bearer should have more than two consecutive terms and one person should hold only one position.
It recommended legalization of betting and also an age limit for BCCI office bearers.
18 Jul 2016

SC asks BCCI to follow Lodha Panel
In a historic decision by the Supreme Court of India, the Board of Control for Cricket in India has been asked to obey the recommendations of the Lodha Panel.
The court has given the cricket governing body six months to implement the measures suggested.
The court has set up a three-member body to oversee administrative changes in the BCCI over the next six months.
Love Sports news?


Stay updated with the latest happenings.
BCCI unhappy; ex-cricketers welcome SC decision

While the BCCI seemed unhappy with the court decision to implement the Lodha Panel's recommendations, former cricketers like Kirti Azad and Bishen Bedi have welcomed the verdict.
09 Sep 2016

BCCI to have new selection process for national selectors
BCCI not making any impression on the critics: Anurag Thakur

BCCI President Anurag Thakur said that the decision to change the selection process was purely the board's and that it had nothing to do with the Lodha Panel. He added, "We are not trying to show anyone anything."
21 Sep 2016

BCCI takes major decisions at Annual General Meeting
Ajay Shirke was re-elected as the Secretary of the board at the Annual General Meeting of the Board of Control for Cricket in India(BCCI),
BCCI also announced a five-member senior selection panel.
MSK Prasad, former wicketkeeper-batsman has been appointed as the chairman of selectors.
Devang Gandhi, Jatin Paranjpe, Sarandeep Singh and Gagan Khoda are the other four members on the selection panel.