Sports
Michael cannot walk: Lawyer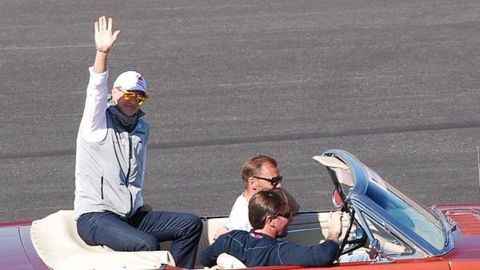 Michael Schumacher's lawyer Felix Damm told a German court that Michael cannot walk.
He was speaking at the proceedings for a lawsuit against the magazine which claimed Schumacher was able to walk and move.
Damm also said that Michael was not able to stand even after getting assistance from therapists.
The court is expected to give verdict on this case in October.
In context:
Michael Schumacher: F1 Champion to bed-ridden skier
Michael Schumacher is a retired racing driver. A German national, he was interested in racing from his early age and won his first club kart championship at the age of six.
He won the German Formula Three series in the year 1990.
At the age of 22, he made his Formula One debut at the 1991 Belgian Grand Prix racing for Jordan Ford Team.
Achievements

Formula One Records
Michael Schumacher holds the record for most number of F1 Championship titles with seven wins. He has also won the title five consecutive times.
He has finished in the top three positions in his career a total of 155 times, 91 times of which he finished the race on the first place.
Schumacher has won French Grand Prix eight times, most by any driver.
Love Sports news?


Stay updated with the latest happenings.
Retirement and comeback

Having successfully raced for Ferrari for almost 10 years, Michael announced his retirement in 2006. However, he returned to F1 racing in 2010 with

Mercedes

. But he did not get much success and Schumacher retired after the 2012 Brazilian Grand Prix.
29 Dec 2013

Schumacher suffers head injury while skiing; goes into coma
Michael Schumacher suffered a head injury after hitting his head on a rock while skiing in French Alps with his son and friends.
He went into coma and was fighting for his life in a hospital in Grenoble.
The former F1 Champion was discharged after six months when he came out of coma.
Doctors said that he was recovering, but very slowly.
German magazine sued over claims about his health

In December 2015, German magazine 'Bunte' reported that Michael Schumacher was able to walk and move his hand. A friend of Schumacher's was named as their source. However, the Schumacher family took the magazine to court over giving false information.
21 Sep 2016

Michael cannot walk: Lawyer
Love Sports news?


Stay updated with the latest happenings.
20 Dec 2016

Michael Schumacher's 'friend' tries to sell his photo for £1m
A photograph of bed-ridden Michael Schumacher was attempted to be sold for £1m to European media agencies. The picture was allegedly clicked by a 'friend' of his.
The German prosecutors have confirmed the news saying that an unknown person has taken a picture of the legendary driver at his home in Switzerland.
An investigation has been initiated by the police to find the photographer.
Michael's health is not a public issue: Manager

Michael Schumacher's manager Sabine Kehm said, "Michael's

health

is not a public issue. We have to protect his intimate sphere. Legally seen and in longer term, every statement related to his health would diminish the extent of his intimate sphere."
31 Dec 2016

Three years of medical bill cost Rs.116 crore for Schumacher
Michael Schumacher's medical bill amount has crossed Rs.114 crore since he went into coma three years ago, reports say.
The amount is based on approximately Rs.96 lakh being spent on his treatment per week.
The 47-year old had met with an accident while skiing in the Alps on 29 December 2013 and was in a medical-induced coma for the next six months.