Umesh Yadav thinks SG Test balls are ineffective in India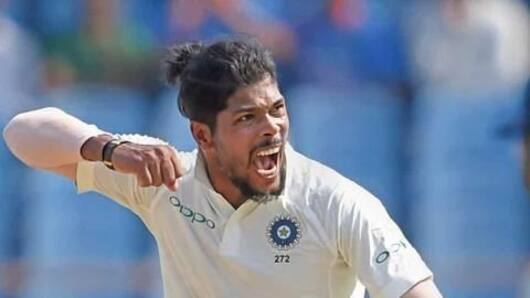 Pacer Umesh Yadav has let his complaints against 'SG Test' balls known in very clear terms.
Yadav feels that after the ball wears out, it offers no pace or bounce on flat Indian tracks and makes it difficult to contain the lower order batsmen of the opposition.
Yadav was referring to Roston Chase and Jason Holder's partnership during the first innings of West Indies.
In context
Now Umesh Yadav slams SG balls
Kohli
Even Kohli had advocated the use of Duke balls
Indian skipper Virat Kohli had earlier advocated the use of Duke balls as he believes the quality of SG balls has gone down significantly.
Kohli praised Kookaburra balls as well and added SG balls are unfair to the bowlers as they lose control of the match in the later stages.
Even spinner Ravichandran Ashwin had earlier spoken out against using SG balls.
There are no set guidelines regarding which ball to use
The International Cricket Council has provided no set guidelines regarding which ball is to be used in Tests. Different countries use different balls according to their preference. India have been using the SG balls since the early 90s.
Love Sports news?
Stay updated with the latest happenings.
Notify Me
Statement
What did Yadav say regarding the SG balls?
Yadav clearly mentioned during the post-match press conference that no variations are possible on flat Indian tracks with SG balls, because after a little wear and tear, they offer no bounce or pace.
He even said that containing runs becomes difficult because the partnerships get solidified and the batsmen realize that all they need to do is wait.
Conditions
Conditions were favorable for the batting side: Yadav
Umesh Yadav further commented on the condition of the pitch, which he said offered neither swing nor reverse to bowlers.
He said that he tried to go for wickets as he felt containing the runs would not be enough.
Chase (106) and Holder (52) gave a big push to the visitors.
"As much as you try, the scoreboard kept ticking", signed off Yadav.
Yadav managed his best figures against West Indies
Yadav, even with shortcomings of the pitch and ball, managed to pick up six wickets against West Indies, giving 88 runs in the process as they ended up with 311. This was his career-best figures after the 2012 performance at Perth, Australia (5 for 93).