Sports
Gambhir returns to Indian team after two years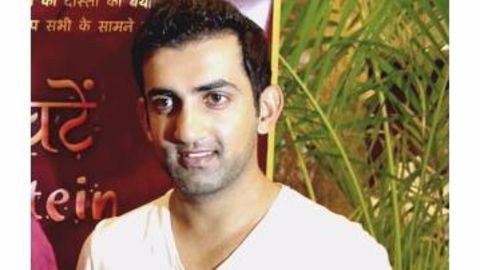 Gautam Gambhir has returned to Indian team after two years for the New Zealand series in place of injured K L Rahul.
He underwent a fitness test at the National Cricket Academy in Bangalore and passed it with flying colours.
It is not sure whether the left-handed batsman would be a part of playing XI in the second test or not.
In context:
Changes in Indian team for New Zealand Series
Ishant Sharma suffering from Chikungunya

India's pace bowler Ishant Sharma was ruled out of 1st test against New Zealand as he was diagnosed with Chikungunya. India coach Anil Kumble said that Ishant was still recovering from chikungunya and his progress is being closely monitored by doctors.
Injury scare

KL Rahul ruled out of New Zealand series
Indian batsman Lokesh Rahul suffered a hamstring injury during the first test against New Zealand in Kanpur.
The injury turned out to be a serious one, and has led Rahul out of the series against New Zealand.
Coach Anil Kumble is reportedly looking for his replacement. He met Gautam Gambhir and Yuvraj Singh during Duleep Trophy matches in Noida.
Love Sports news?


Stay updated with the latest happenings.
Kumble tells Gambhir, Yuvraj to be ready

Anil Kumble has reportedly told Gautam Gambhir and Yuvraj Singh to be ready for being part of the Indian team again. He also told them to be physically fit given India's long home session.
28 Sep 2016

Gambhir returns to Indian team after two years
Gambhir's test record

Gautam Gambhir has represented India in 56 test matches, scoring a total of 4046 runs at an average of 42.58. He has nine test 100s and twenty one 50s to his name. Along with Virender Sehwag, Gambhir has scored 4412 runs at the top order.
Gambhir - Kohli rivalry

Delhi cricketers to be trouble for each other?
While Virat Kohli and Gautam Gambhir's partnership has won some key matches, it is no secret that the two Delhi batsmen are no best friends.
The two have been seen fighting and abusing each other on field on many occurrences.
Now that they will be sharing dressing room soon, it would be interesting to see how the relationship between the two goes.
Love Sports news?


Stay updated with the latest happenings.
Jayant Yadav replaces Ishant Sharma

Harayana off spin bowler Jayant Yadav has replaced pacer Ishant Sharma for the second test against New Zealand at Kolkata. Sharma, who is recovering from Chikungunya, was ruled out of the first test.
28 Sep 2016

Yuvraj called in for ODIs?
Sources said that Yuvraj Singh has been called-in to Bangalore for a fitness check up for ODI series against New Zealand starting 16th October.
The left handed batsman has been out of Indian ODI team from the last three years.
He was part of the Indian T20 team for the 2016 World T20 earlier this year, where he got moderate success.