Sports
BCCI boss blasts Sandip Patil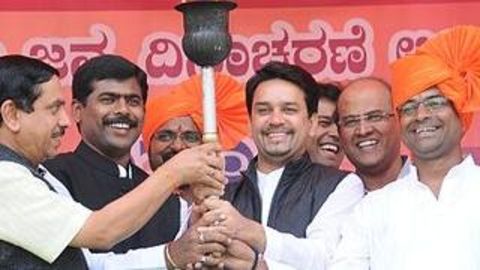 BCCI chairman Anurag Thakur has slammed former chief selector Sandip Patil for revealing confidential information on Sachin Tendulkar and MS Dhoni.
Thakur called Patil's move as 'unethical' and said that he has given out confidential information.
He also said that Patil should have avoided speaking like that as he was the chairman of selection committee and had big responsibilities.
In context:
Internal troubles in BCCI
Sandip Patil speaks out

Former chief selector of BCCI, Sandip Patil has spoken out about the board's decisions on few of the players in an interview. However, when asked the same questions at his last press conference with BCCI, he told media that some things should remain confidential.
Sandip on Sachin

Would have dropped Sachin from ODI team: Patil
Former chief selector of Board of Control for Cricket in India (BCCI) Sandip Patil said in an interview that the selection panel would have dropped Sachin Tendulkar from the Indian ODI team, had he not announced his retirement.
In an interview, Patil also told that the selectors had a meeting with Sachin on 12 December 2012 and asked him about his plans.
Love Sports news?


Stay updated with the latest happenings.
Sandip on Dhoni

Dhoni had nothing to do with Yuvraj and Gambhir's absence
In the interview, Sandip Patil told that it was selectors' decision to drop Yuvraj Singh and Gautam Gambhir from the team and MS Dhoni played no role.
He added that the selectors had discussed about removing Dhoni as a captain, but his retirement from test cricket was not known to the board and was a complete shock for them.
28 Sep 2016

BCCI boss blasts Sandip Patil
Right people will speak to him: Thakur

On asked if any action would be taken against Sandip Patil for beach of confidentiality, Anurag Thakur did not reveal much information. But he said, "Right people in the BCCI will speak to him soon."