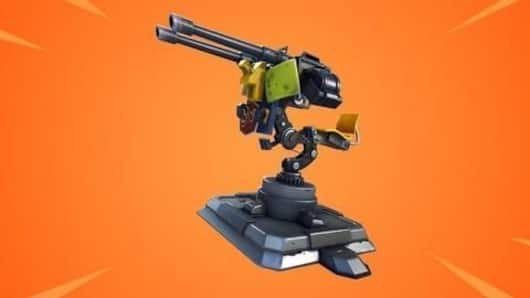 #GamingBytes: Fortnite will get Mounted Turret soon
Fortnite developer, Epic Games, keeps the interest in its Battle Royale strong by constantly adding new and exciting content along with the frequent updates.
The most recent update has been followed by the news of a new item coming to the game. Called the Mounted Turret, the item does not have an official release date yet.
However, read what we know about it.
All about the Mounted Turret
Credits:
The in-game message announced the arrival of the Mounted Turret, a stationary gun.
With double barrels, this weapon can be used to lay down 'suppressive fire'.
However, the game's message warns us the gun might overheat. We believe it has unlimited ammo, but if multiple rounds are fired at once, the Mounted Turret has to cool down before it can be used again.
Using the Mounted Turret
The Mounted Turret seems to be an Epic Rarity weapon though other variants could be available as well.
It might function like the Light Machine Gun, but with more stability, as it is fixed to a place.
Since players cannot move around with it, it might be classified as a Trap item instead of a Weapon, which would affect players' inventory in the game.
Love Sports news?
Stay updated with the latest happenings.
Yes, notify me
How will the Mounted Turret affect gameplay?
Credits:
The Mounted Turret can be placed behind closed doors or in fortifications to mount ambushes or strengthen defenses.
However, it remains to be seen how much protection the turret offers and how easy it would be to snipe the gamer mounting the turret.
Furthermore, due to the high bullet spray of a turret, the accuracy is bound to be low, reducing kill chances.
An impregnable fortification
Gamers might choose to combine the Port-A-Fort item and the new Mounted Turret to create strong defenses towards the end of the game. This will give them a marked advantage of staying in cover and taking out enemies while protecting their structure with this turret.