Sports
Imran Tahir fined for sledging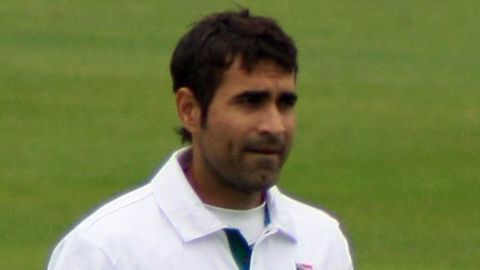 South African leg-spinner Imran Tahir was fined heftily with 30% of his match fee along with two demerit points, after a heated exchange with Australian batsman David Warner.
The incident happened during South Africa's 5th ODI match against Australia, in Cape Town.
Tahir was in violation of the ICC Code of Conduct's Article 2.1.1, which deals with conduct "contrary to the spirit of game".
In context:
Sledging in Cricket
Sporting Tactic

What is sledging?
Sledging is a sporting tactic, a ploy used by players to weaken the opponent's concentration.
It usually involves verbal insults or intimidation to 'mentally disintegrate' opponent player.
The earliest case of cricket sledging dates back to 1765, in a match at Hambledon, when Richard Nyren from Men of Hampshire XXII was involved in an altercation with XXX Red Hot Hampshire Men's batsman John Small.
One of the instances

Sir Viv Richards vs. Gregg Thomas
Legendary West Indies batsman Viv Richards was known for punishing bowlers who dared to sledge him.
A famous incident involves his tiff with Gregg Thomas where the latter said, "It's red, round and weighs about five ounces, in case you were wondering."
Richards who smashed the next ball out of the ground responded, "You know what it looks like. Now go and find it."
Love Sports news?


Stay updated with the latest happenings.
The pioneers

Sledging - friendly banter or ugly?
While sledging in its light form invokes friendly banter, there is an ugly side to the tactic where it can get too much.
Australian cricketers who have pioneered sledging, have often been known for its excesses.
Some of the Australians known for sledging include - Ian Chappell, Merv Hughes, Shane Warne, Andrew Symonds, David Warner, etc.
Rod Marsh vs. Ian Botham

Of the sledging incidents involving Australians, the Rod Marsh vs. Ian Botham episode comes on top. Marsh, the Aussie wicket-keeper, cheekily asked the English man, "So how's your wife and my kids?'. To this Ian Botham replied, "The wife's fine. The kids are retarded."
Bhajji vs. Symonds

Example of sledging gone wrong
In 2008, during a Test match in Sydney, Harbhajan Singh was accused of racially abusing Australian cricketer Andrew Symonds, where he was allegedly called a 'monkey'.
The Indian spinner was handed a three-Test ban after the incident, which was later overturned on appeal.
The incident remains controversial with Symonds alleging that BCCI flexed its muscles to get Singh off the hook.
Code of Conduct

ICC Code of Conduct for players
While there are no specific rules drawn out for sledging, excessive aggression or untoward behaviour on field falls under the purview of ICC's Code of Conduct for players.
The offences by players are categorized under Levels 1-4 and penalties are awarded accordingly.
As per the recent changes, effective from 22 Sep 2016, players breaching the code will also accumulate 'Demerit Points'.
Love Sports news?


Stay updated with the latest happenings.
Match bans and demerit points

While Level 2 offence could possibly be penalized with a match ban, offences from Levels 3-4 carry the definite penalty of match bans. On the other hand, a player accumulating four or more 'demerit points' within 2-year-period, could face one or two match bans.
13 Oct 2016

Imran Tahir fined for sledging
14 Feb 2017

Australia's captain Steve Smith approves of sledging
Australia will be playing against India in four-Test series that start on 23rd February in Pune.
Ahead of the first Test, Australian captain Steve Smith encouraged his players to "go for it" with on-field sledging.
He urged his teammates to do whatever it takes to win the four-Test series.
After Pune, Australia will go to Bangalore, Ranchi and Dharamsala in March.