Sports
Korea defeat B'desh in a last minute thriller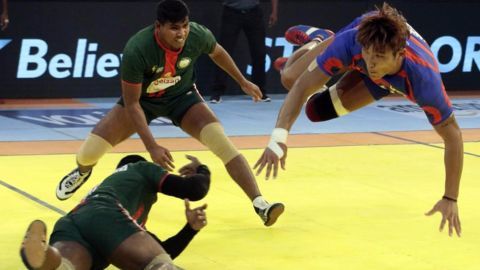 Korea made a last-minute comeback against Bangladesh to complete their hat-trick of wins in Group A match of Kabaddi World Cup.
Tied at 30-30 in the 39th minute, Jang Kun Lee's exceptional raids gave Korea a win of 35-32. He got a total of 14-points in the match.
For Bangladesh, captain Aruduzzaman Munshi got eight raid-points, two of which came in the 40th minute.
In context:
2016 Kabaddi World Cup - Day 7 Updates!
Kenya vs Thailand

Thailand demolish Kenya in a one sided match
Thailand put up a powerhouse performance against Kenya to win the match by a fantastic 53-21 margin in Group-B match.
The Asian nation showed their dominance right from the start and were leading 30-8 by the end of first-half.
Thailand-captain, Khomsan Thongkham and Khunakon Chanjaroen put up brilliant performances and picked up 14 and 10 points respectively, not giving Kenya any chance to score.
14 Oct 2016

Korea defeat B'desh in a last minute thriller
Love Sports news?


Stay updated with the latest happenings.
Khomsan Thongkham - most successful raider

Thailand captain, Khomsan Thongkham has 24 successful raids taking him on top of the list. Bangladesh captain Aruduzzaman Mumshi is on the second spot with 21 successful raids, followed by Kenyan skipper David Mosambayi with 20 raids.
Standings

Korea climb on top Group A standings
After a thrilling win against Bangladesh, Korea has regained their number one spot in the Group-A standings of the Kabaddi World Cup. Winning all the three matches so far, they have 15 points.
Korea is followed by India, Bangladesh and England.
While Iran and Japan hold first and second spot in Group-B standings, Thailand is on the third place and Kenya is on fourth.